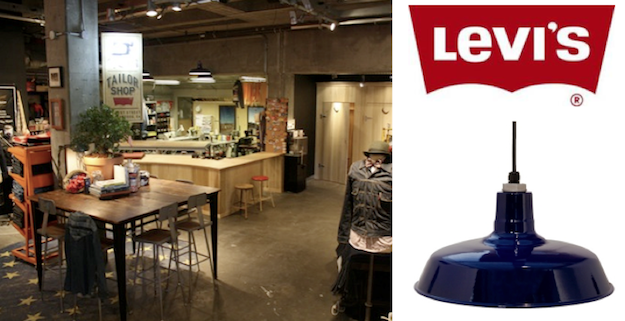 A Match Made In Heaven: Levi's And Nostalgic Porcelain Lighting
What exactly do Barn Light Electric and Levi's have in common? If you're referring to their new Tailor Shop in San Francisco, quite a bit actually.
Levi's has been around for ages. Getting their start in the mid to late 1800's, it wasn't until the 1920's that Levi Strauss & Co. started producing the 'modern' jean style that we know of today. It was also at this time that Warehouse Shades gained popularity – primarily being used in none other than factories and warehouses where goods, like Levi's jeans, may have been once produced.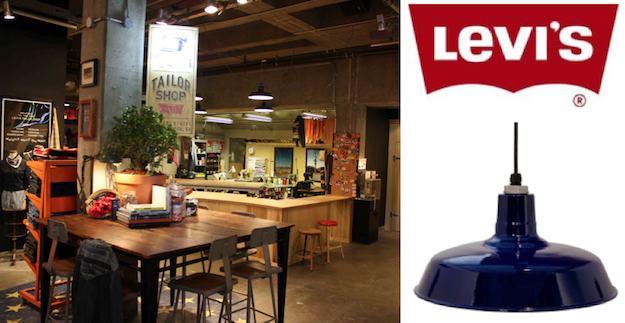 Photo (Left, Top Right) Courtesy of A Continuous Lean. As Shown (Bottom Right) Barn Light Electric Ivanhoe® Sky Chief Warehouse Pendant, Cobalt Blue, Standard Black Cord, $184.00.
With a history stemming back almost 100 years, its no wonder these two iconic pieces have been paired up once again. Launched this past July in San Francisco, the new Tailor Shop is a one of a kind customization area that offers a variety of services to fully create an iconic item all your own – everything from stitch and embroidery machines, to vintage patches and unique buttons.
Taking a glace at the top left photo above, hanging in the distance are a grouping of vintage inspired porcelain enamel pendants. Their cobalt blue finish ties in perfectly with the American themed floor treatment, and of course, endless amounts of blue denim. Porcelain enamel finishes have been around since the 1920s and 30s, and like Levi's, are built to last. They are created using an inner steel shade and have an exterior glass coating for added durability. Maintenance for these shades is virtually non existent as this time tested manufacturing process has proven a mild soap and water will restore these fixtures to their original luster. If a pendant isn't exactly what you're searching for, don't fret. Our Barn Light Electric porcelain enamel shades are available in a gooseneck or stem mount option and can be ordered in multiple shade styles and colors!
So what exactly do Barn Lights and Levi's have in common again? Lets recap:
1.) Both could be found in industrial factories
2.) Almost 100 years of shared history
3.) Iconic pieces of early America
4.) Time tested and built to last
5.) Both can now be fully customized – however you want to use them!
6.) Ages gracefully
7.) Cleans up nicely with a mild soap and water
8.) Always in style
9.) Every farmer has/had one, and now you can too!
10.) Available in a cool shade of blue
11.) A love for industrial decor in our stores!
12.) …and Red logos!