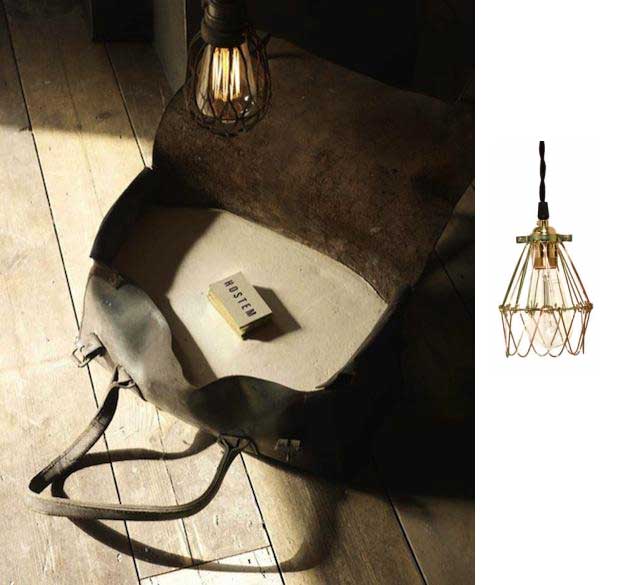 Wire Cage Lights & Industrial Pendants in London Store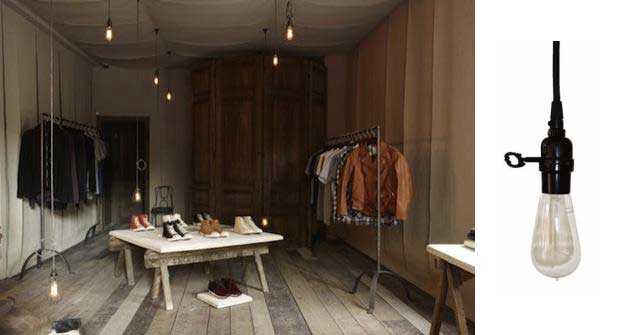 Barn Pendants resembling the Indy Industrial Pendant and the Minimalist Polished Brass Cage Pendant add to the time-worn character of Hostem Men's Clothing Store, located in the heart of London's East End. These cloth cord pendants are found within the Ceiling Lighting category at Barn Light Electric.

The Indy Industrial Pendant features an authentic style turn key switch that can be used as an on/off switch, or simply as a decorative feature. It comes with 8 feet of adjustable Black or White cord (the image above features black). It's an ideal, affordable pendant to accent within the home or counter top, yet has also been making appearances within large and small scale retail displays. The Indy starts at $85.00 each.
You will also notice several caged pendants are used throughout Hostem's showroom (shown in the photo below). One caged pendant hangs above a black leather bag, uniquely doubling as a business card holder. The light shining into the bag resembles our Minimalist Polished Brass Cage Pendant, which starts at $99. When ordering this pendant, you will have the option of choosing a Black, White, or Putty cotton twist cord. Wire cage lights were originally used in factories and warehouses, where the cage protected the light bulb from debris materials that may damage the bulb. Like many of the decorations and fixtures at Hostem's, the Minimalist Polished Brass Cage Pendant has a simplified elegance reminiscent of the Industrial Era.
Hostem's interior was planned by JamesPlumb design, which was founded by two of Britain's most popular designers: Hannah Plub and James Russel. The duo is known for their creative re purposing of vintage furniture.
The team created an overall rustic look throughout the store. Antique items were salvaged and reused, including a vintage church pew (now used as a counter) and a chandelier made from a combination of lampshades. Recently, Hostem's was featured in a blog post on Remodelista's Shopper's Diary.
"The duo layers Dickensian grittiness with the romance of the British poets Keats and Shelley….Walls and ceilings are lined with hand-painted hessian, and Swedish linen curtains obscure the windows." – Remodelista
Photos Courtesy of Remodelista