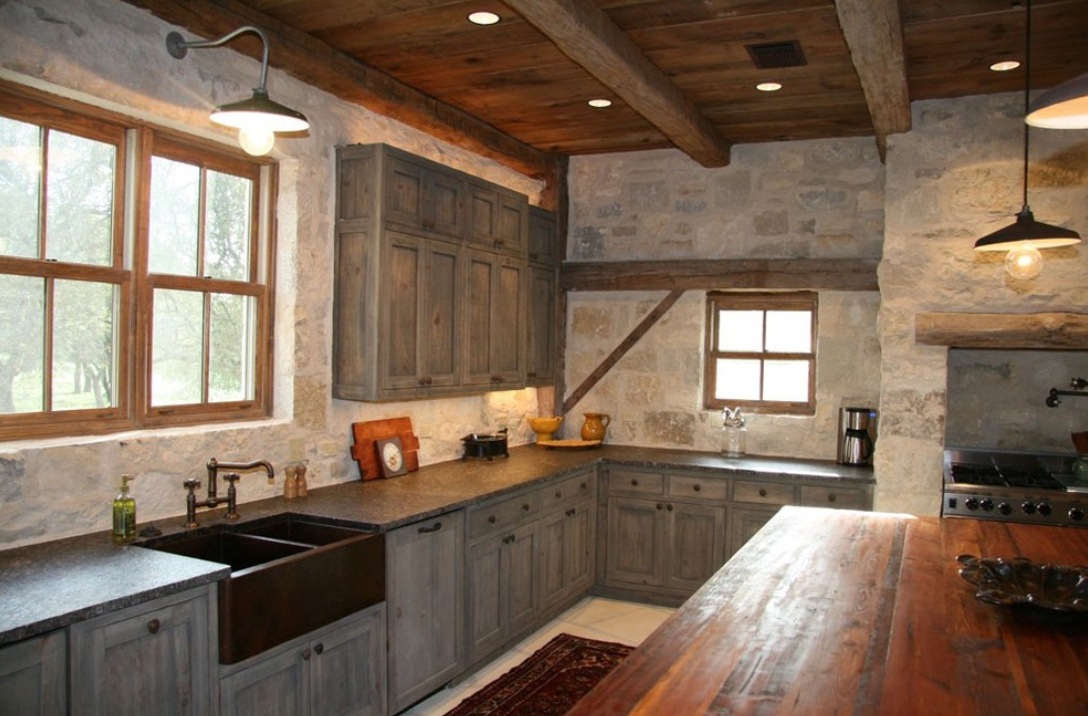 Industrial Barn Lights Shine in a Rustic Industrial Kitchen
Nothing says safe and secure like massive stone walls. A blizzard could be raging outside these windows and you would be all warm and cozy here in the kitchen with a bowl of hot soup and crusty bread sitting at the kitchen island crafted from smooth, reclaimed wood. This kitchen has many great farmhouse touches from the distressed cabinets and old fashioned hardware to the exposed, rough hewn beams in the ceiling down to the copper sink that adds a bit of a rustic glow to the room. Antiques look great with the industrial farmhouse style and this homeowner went right back to the 1930s to find appropriate lighting for this space.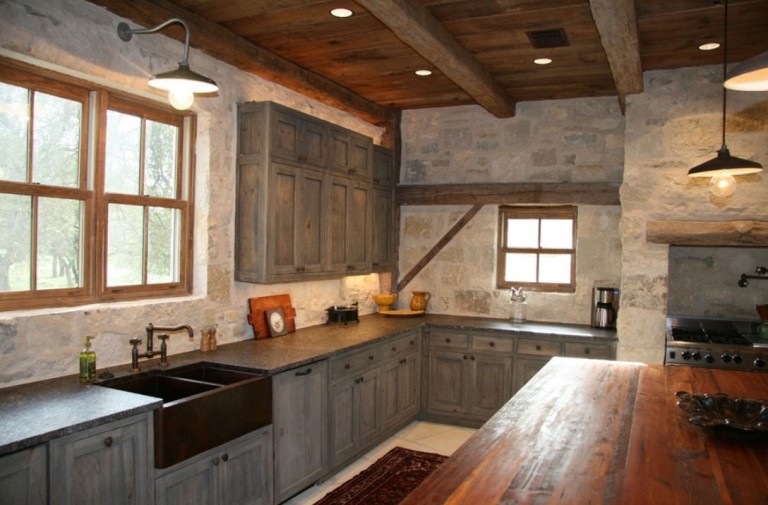 The gooseneck light over the sink looks very much like our Skylark Shallow Bowl Gooseneck which is part of our Gooseneck Barn Lighting collection. Based on original designs from the early 20th century, the Skylark has timeless appeal with its industrial style. This shallow shade, available in four sizes, throws plenty of directed light onto the surface below. Handcrafted right here in America by our own craftsmen, the Skylark is made with commercial grade materials to give you years of use. A rainbow of powdercoat finish colors are available for this light along with more than 20 different gooseneck arm styles.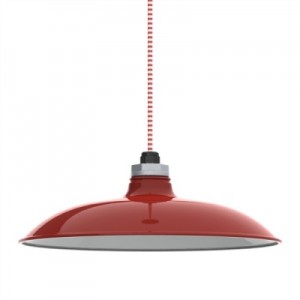 The matching pendants are a perfect touch over the island and resemble another member of the Skylark Family — the Skylark Shallow Bowl Cord Hung Pendant. Starting just under $100, this versatile pendant comes in four shade sizes and the same 12 finish colors as the gooseneck. Choose a matching hue or a complementary one for even more color. In addition to the standard black and white cord options, you may choose a colored cotton or cotton twist cord. And be sure to browse our entire selection of light bulbs including the many styles in our collection of nostalgic Edison Style Light Bulbs!
Top photo courtesy of Rustic Sinks