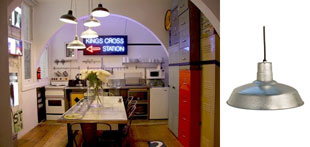 Warehouse Pendants Bring New Life to Small Spaces
Warehouse pendants offer an effective and stylish solution to complete eclectic rooms like the home pictured above. A cluster of cord hung warehouse shades in both a black and galvanized finish add a one of a kind touch to the 220 square foot room. These finish choices bring out the industrial colors found throughout the kitchen – appliances, neon signs, and metal file cabinets that line its wall.

The pendants were installed over a table that was once used as a train station door. This makeshift chandelier is large, but still the perfect size to flood the room's high ceilings with artificial light. The slight curve on each shade even mirrors the large archway separating the eating area from the prep space. Coincidence? All of these cool features helped it to become a finalist in Apartment Therapy's contest for "The Smallest, Coolest Home."
"We've always believed that small homes can be the most inspiring and influential, filled with design ideas and solutions to motivate and educate us all. From teeny tiny studio apartments to compact cottages, we love discovering the homes that really show off just how cool small homes can be." – Apartment Therapy
Readers from around the world sent in their beautiful small space and tips for living well under 1,000 square feet. The apartment's owner, Steve, claimed his biggest challenge was to find accessories and decorations that would "add to the feel, without going over the top." Warehouse pendants were the perfect choice to add just enough charm without dominating the overall theme. In the conjoined living room, Steve added a magazine rack, tufted leather sofas and Union Jack throw pillows to create his masculine setting. A semi open floor plan allows the warehouse shades to be seen within eyesight of the corner doorway.
Steve's apartment isn't the first place to utilize black or galvanized pendants for a train station theme. You may recall our blog post that showed galvanized pendant lights at Slow Train Coffee House in Oberlin Ohio. Visit the Barn Pendants section at Barn Light Electric to see the extensive selection of our warehouse pendants.