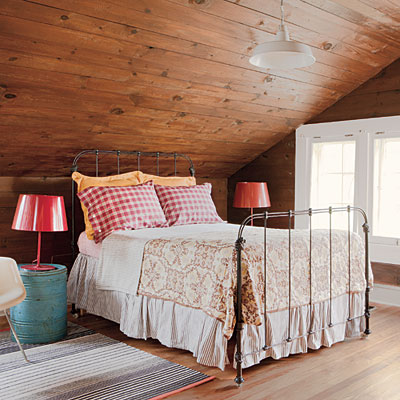 Warehouse Pendant Lights for a Quaint Attic Remodel
It's official; the holidays are finally here. Although many of the big name stores have forced you to look at Christmas decorations for the past two months now, we're hoping you're not too sick of it all by now and are ready for family and friends to start gathering around. Is it your turn to host this year too?

If you do happen to be the chosen one this season, you may be running out of spaces to put every last aunt, uncle, cousin and nephew after the dinner's tryptophan has kicked in. While it's likely you're concentrating on common areas with sectionals and pull out sofas, there may be one area you've over looked. What about your attic? What condition is that in?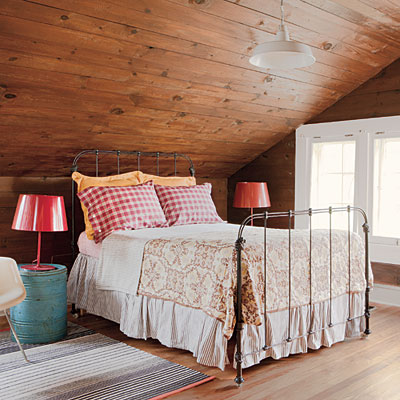 The homeowners today took advantage of their home's unused space and converted it into a charming guest bedroom. You may even find an old vintage bed frame up there too – how lucky could you be? Because of the sloped and sharply angled ceilings, a cord hung warehouse shade was definitely a great choice. How so? Using a flush mount light or a stem mount pendant would never work because they'd never hang straight.
But the cord hung pendant versions allow the shade to hang perfectly straight downward – no matter what the slope or angle you may have. The design today is nearly identical to the Ivanhoe® Sky Chief Porcelain Warehouse Pendant. This industrial RLM barn light is American made too – think along the lines of a hand spun steel shade covered in a baked on porcelain enamel coating.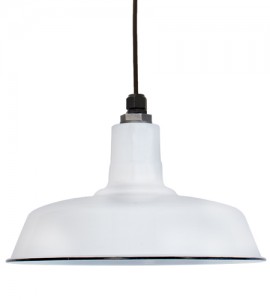 Another added bonus about the Ivanhoe® Sky Chief? We can ship this warehouse light out to you within days so there is no need to wait for the perfect pendant light to arrive!
Top Photo Courtesy of Southern Living Magazine