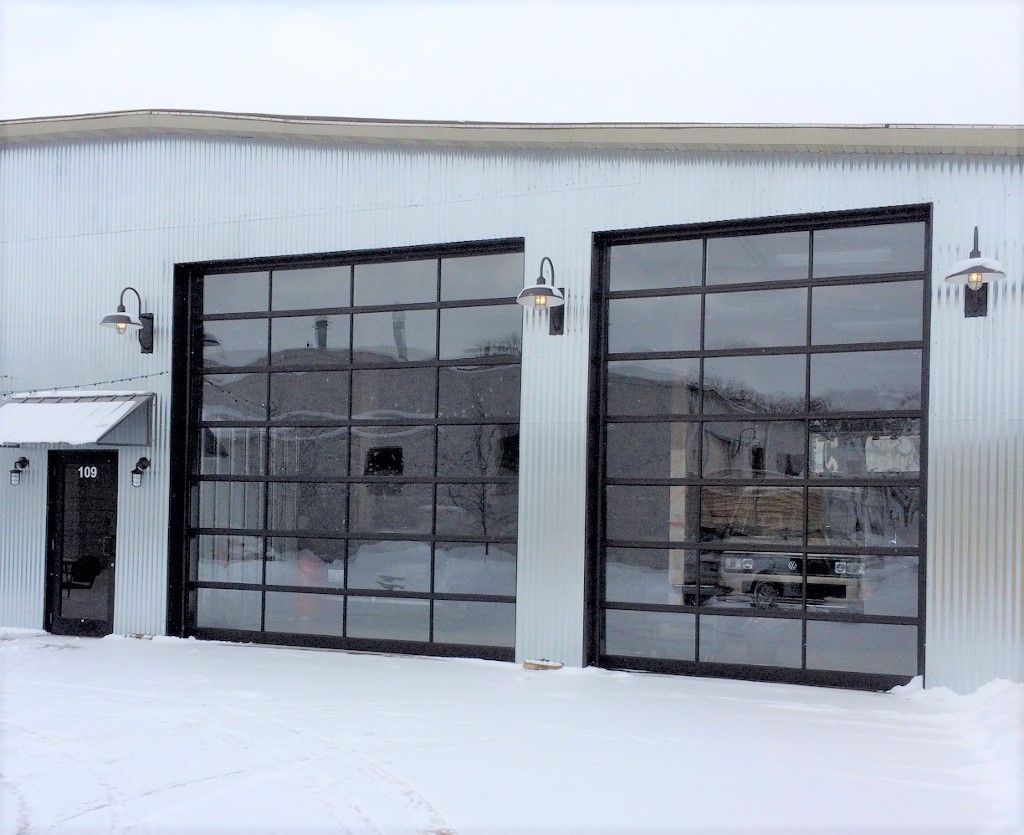 Vintage Warehouse Reborn as Event Venue with Classic Gooseneck Lighting
Most renovation projects start with a vision. When Debbie and her husband purchased a 1960s-era factory and warehouse building in Plainfield, Illinois, they rehabbed and rented out space to a brewery, a distillery, an agility dog training academy, and a large workout gym.
The couple decided to keep the last unit for themselves envisioning a place to store their collection of antique motorcycles and cars. Their oldest daughter, Corinne, is an architect and was planning her wedding at the time and decided the space would be perfect for the reception.
"Our first intention was to create a space for my dad's collection," Corinne says. "But we also wanted to include a bathroom and a small kitchen to make it a hangout for my parents to have impromptu parties. We are a family of party planners by nature so this seemed like an obvious renovation direction." With the wedding reception on the schedule, the family's vision of a clean, classic, but modern space came to life with exposed brick, corrugated tin siding, a vintage bar, and a 1958 Airstream trailer turned into an office/lounge.
As an architect, Corinne was familiar with Barn Light Electric and searched for appropriate outdoor lighting for the renovated building. The classic lines of The Original™ Warehouse Gooseneck Light caught her eye.
"I showed these lights to my parents and they were immediately sold!" Corinne says. "Once they were installed, they ordered a few more. That's a huge testament to the good design and quality of your products." These utilitarian gooseneck lights were customized with a 16″ shade, Black finish, a Galvanized cast guard, and frosted glass. The group was split 50/50 on the choice of the finish color at first.
"I was interested in the Red or even the Green, but my parents felt that the Black was more classic," Corinne explains. "In the end, I think the Black works perfectly. The design speaks for itself even without a loud color. And we chose the frosted glass for more diffused light which is important in holding evening events."
The building renovation turned out so well that the locals started asking if the space was available for rent. What started out as a garage space for cars and motorcycles quickly turned into an event venue called Warehouse: 109.
"So far we have hosted a wedding reception and an engagement party, and coming up, we have a whole range of events including birthday parties, club meetings, a bridal expo, and retirement parties," Corinne says. "It's a nice, casual setting that is a unique backdrop for any type of event."
Photos courtesy of Warehouse: 109