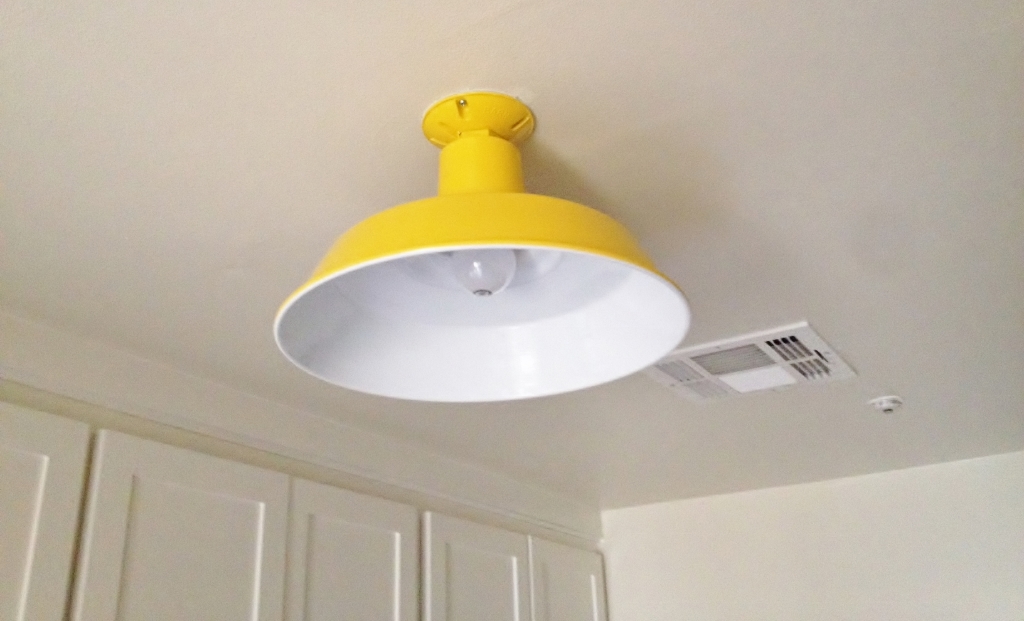 Flush Mount Lighting Adds Splash of Colorful Fun to Laundry Room
Laundry rooms aren't usually the space you consider for having a good time. The living room, yes. The porch, sure. Even the kitchen. But the laundry room — not so much.
When Anne, a resident of Baton Rouge, decided to remodel her laundry room, she wanted to add something fun and stylish to liven up the space.
"Many designers here recommend the same furniture, the same lighting," Anne says, "and I wanted something that is not common in Baton Rouge." During a visit to a friend's house, Anne spotted The Original™ Flush Mount Pendant Light. She knew she'd found her something different. Anne chose a 14″ shade and customized this industrial ceiling light with a happy, Buttery Yellow finish.
"I was looking for something fun and stylish, and to add a pop of color to our otherwise gray-and-white palette," Anne explains. "Then I could play with it in the other details like the cubby bench cushion and area rug." The Original™ Flush Mount features the hand-crafted Original™ Warehouse shade with a ceiling-hugging flush mount perfect for low ceilings or tight spaces like this laundry room.
American made from high-quality aluminum, this ceiling pendant is available in five shade sizes and has a rugged powder coat finish available in 20 different colors. Other customizing options include the addition of a wire cage or cast guard and glass for a vintage spin.
Further back in the laundry room, Anne chose the Flush Mount Guard Sconce also in a Buttery Yellow finish.
"I wanted a different light for the back part of the laundry room that meshed well with the flush mount but was different," she notes. "Your sales team was helpful in answering my questions and suggested the Flush Mount Guard Sconce. It won me over because it reminds me of the lights on the Fire Island, New York, passenger ferry which I've ridden every summer since I was an infant."
This rustic pendant was indeed inspired by nautical cast guard lights. Its compact, yet stylish design offers plenty of light through the cast guard and glass and can take on a variety of looks from rustic to retro. Anne customized her flush mount light with a standard cast guard and clear glass for plenty of illumination.
"I like the unique style of the fixtures as well as the nice warm light that they cast," Anne says. "When I told my friend I was looking for some unique lighting options, she recommended the Barn Light Electric website. I'm so glad she did!"
Photos courtesy of the homeowner