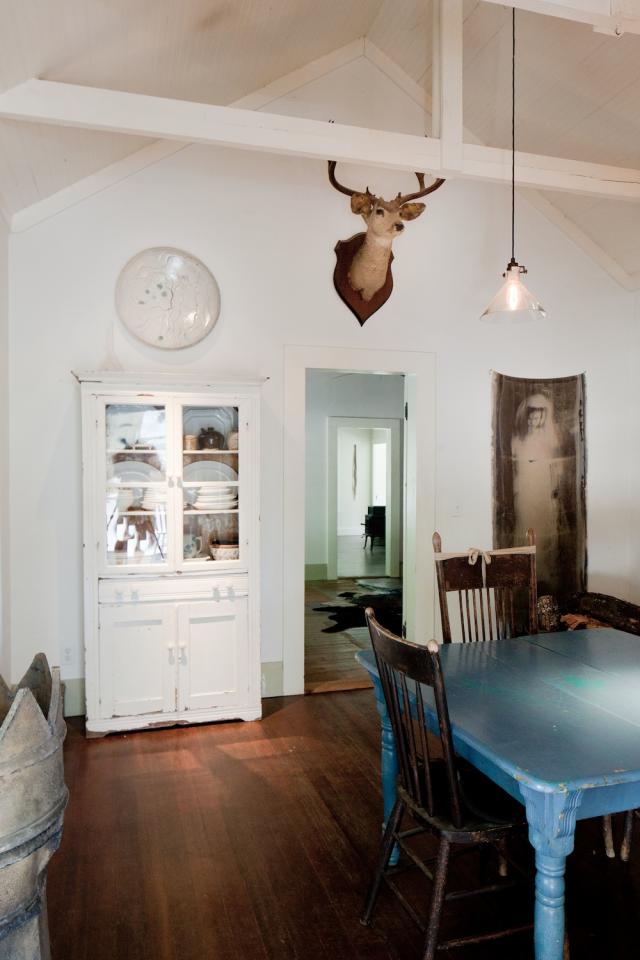 Vintage Victorian Pendant for an Industrial Farmhouse Kitchen
We continue our visit to an early 1900s property in Pope Valley, California that features a rustic farmhouse and a live-in artist's studio. When working on the renovations of this property, the owner, who is also an artist, paid meticulous attention to the design details of restoring this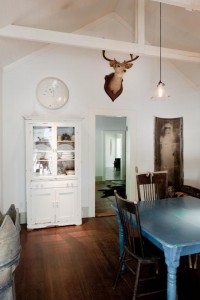 rustic home. We visited here Monday on our Vintage Barn Light Blog where we enjoyed a peek on the porch where lovely flared milk glass shades hang over a long picnic table.
Today, we're checking out the kitchen which is a classic example of the industrial farmhouse style with high ceilings and exposed beams, bright white woodwork, and a farm table right in the center. Hanging from one of those high rafters is a beautiful glass shade pendant very similar to our Barn Light Homestead Pendant. The Homestead Pendant is a great choice if you like an early era lighting style. With its RLM-inspired shade, this pendant will bring instant vintage charm to any number of spaces within your home including the kitchen, bathrooms, or even a gameroom.
Don't be fooled by the modest size of the Homestead. Narrow at the cup, the shade widens at the base to 10 inches to allow plenty of light to spread across the table. You can customize the look of your new fixture with clear, ribbed glass like this one or choose a frosted, ribbed glass for a softer look. We also offer green, opal, and amber colored glass.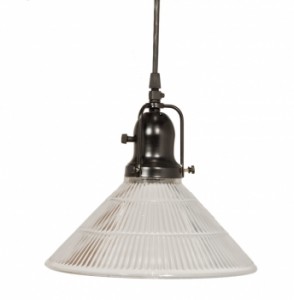 Prefer a solid shade? Barn Light Electric offers more than 50 finish colors for the Homestead Pendant. You can give your light a more retro look with a bright red, sassy yellow, or bold blue color. For a more traditional feel, choose one of our many metallic finishes. Make the final touch a classic one by adding a nostalgic Edison style light bulb to your order!
Top photo courtesy of Douglas Sterling