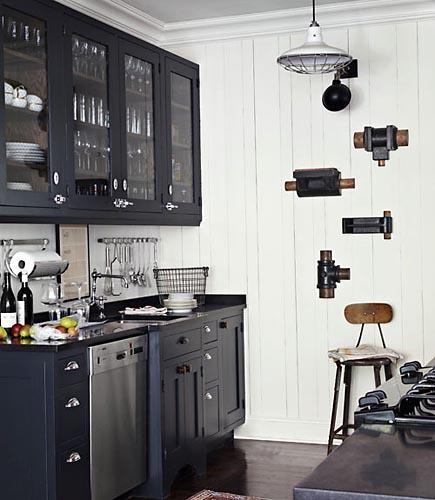 Vintage Industrial Pendant for A Classic Black & White Kitchen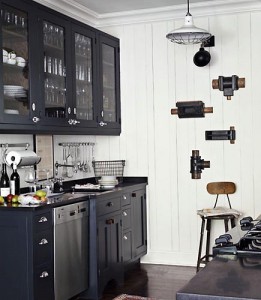 Some people may shy away from a black-and-white design for a kitchen thinking it too stark and cold for what is often the very heart of a home. This beautiful vintage kitchen, however, shows what the perfect lighting and accents can do for a space. The sleek black granite countertops and black painted oak cabinets provide a pleasant contrast against the white plank walls. The touch of silver from the stainless steel appliances lends a modern hint to the room. But it is the industrial accents that really give the space some character. Along with the industrial stool, plumbing pipe fittings hung on the back wall make an unusual display and add interesting depth and texture that no painting and sketch could afford.
Hanging over the center of this galley space is a beautiful pendant much like our 16″ Vintage Cord Hung Shallow Bowl Pendant. This one has the added bonus of a wire guard. These guards were initially attached to light fixtures to protect the bulb in commercial and industrial settings. While this bulb may not need the protection in the kitchen, the wire guard adds another touch of vintage charm to this galley space.
For a similar look to this fixture, check out our 16″ Vintage Green Porcelain Shallow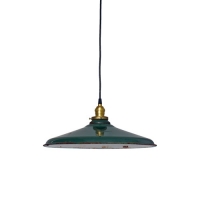 Bowl Pendant or, for a slightly smaller shade, the 12″ Vintage Porcelain Enamel Shallow Bowl with Cotton Twist Cord.
As your go-to headquarters for the most sought-after antique lights available, we have made it easy to purchase a wide variety of vintage industrial lighting styles for your home or commercial space. Many of our lights are from designs first manufactured around the turn of the 20th century when manufacturers focused strictly on quality materials and craftsmenship which is why they're still in use today. All of the Vintage Barn Lights at Barn Light Electric have been cleaned, rewired, and are ready to hang.
Top photo courtesy of Roland Bello