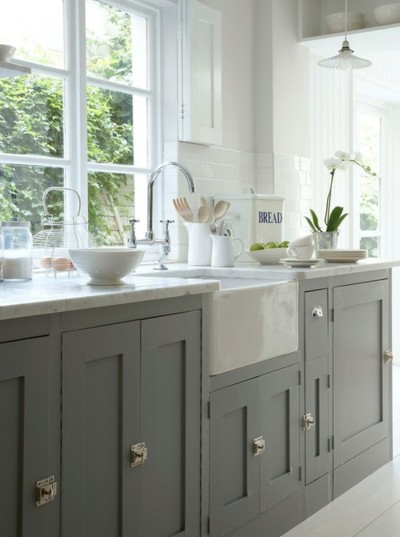 Vintage Pendants For Your Farmhouse Kitchen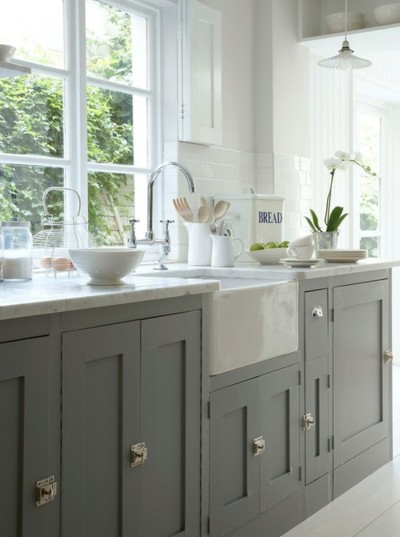 The color gray was once deemed as dull, depressing and unappealing; today, it is anything but! Designers have begun to pair the hue with clean whites and warm, natural woods to give it a very desirable and trendy look – such an example is the featured kitchen today.
Naturally the first piece that caught our attention was the vintage glass shade pendant. There he hangs – so quiet and elegant – much like the rest of the room as well. While the rest of the room may be filled with new-old accessories like creamy white dishes and white porcelain pitchers, the kitchen pendant remains the one true vintage piece that the room needed. Lots of spaces today can easily be overfilled with vintage goodies, but not here. There he hangs, waiting for the flip of the switch when he will be come alive with a soft illumination of light!
Did we just leave you wondering where you can find such a piece?
Fear not, as we found the perfect source for similar styles called VintageBarnLighting.com. They have an unmatched quantity of authentic vintage lights. These styles are found within their Glass Shade Pendants – both Milk Glass and Holophane Glass styles will work. For this kitchen's look, we suggest pairing the shade up with a nickel socket so it adheres with the grey and polished nickel found in the cabinets, marble counters and faucets. The photos below show to matches almost identical: the Antique Gill & Company Holophane Pendant (left) or the Fluted Milk Glass Pendant (right).
Both of these beautiful shades are in fantastic condition considering their age. Although their interior wiring components and cords have been redone for use again today, the shades remain original and unchanged. Vintage pendants are somewhat hard to come by today, so the stock is always changing; check back often to see what new styles are popping up!

Photos Courtesy of Little Emma English Home/Unknown Source