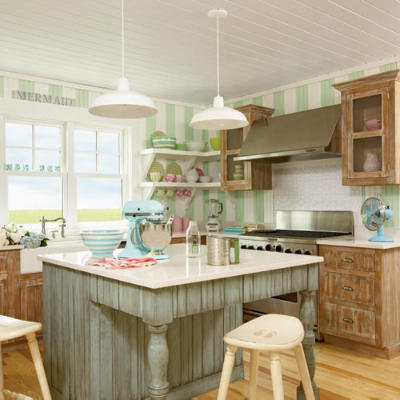 Vintage Pendant Lights for a Coastal Kitchen
Warehouse barn lights aren't just for warehouses anymore, let alone barns! Take a look around the next time you're out and about in your favorite restaurant or store – it's likely you'll begin to notice these vintage lights everywhere. The reason why? Warehouse style pendant lights are flexible, versatile and relatively inexpensive. This makes them a sought after choice for both business owners and homeowners alike.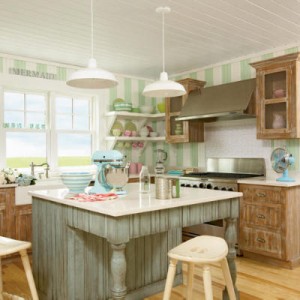 With the hot summer air slowly moving out, in comes cooler fall days – along with the upcoming holidays' family and guests that use your kitchen as a gathering area. Why not give them something interesting to look at? The kitchen featured today is from a Coastal Living Idea Cottage, so you know it's chock full of stylish pieces. Keeping with the coastal theme, the kitchen is decked out in weathered wood and bright colors galore. The striped walls are reminiscent of the shades of sea grass found out the window, with aqua blue appliances you'd swear were the same color as the Caribbean!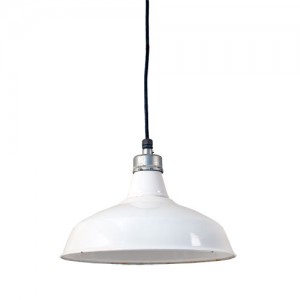 Over the island, hopefully you've noticed the warehouse ceiling lights. In a crisp white, they add that extra coastal vibe without distracting from the other details in the kitchen. Consider a vintage warehouse pendant for your kitchen, even if you don't have a seaside theme in your home. Famous brands like Appleton, Benjamin®, and Crouse-Hinds were previously known as manufacturers of top quality factory lighting. Nowadays, it seems everyone wants a piece of history in their home with a vintage pendant light. The 16" Appleton White Warehouse Pendant is the prime example of an ideal warehouse light to add some authentic character to your home. The little bit of wear on the porcelain enamel blends seamlessly with a weathered coastal look, whereas the obvious industrial design is a fun addition for eclectic and artsy spaces.
Making the deal so much sweeter for this vintage pendant is free shipping! For a limited time, Vintage Barn Lighting is offering free shipping online on all of our vintage and antique light fixtures. Unlike a classic porcelain barn light, this deal isn't going to last forever, so get them while you can!
Top Photo Courtesy of Coastal Living