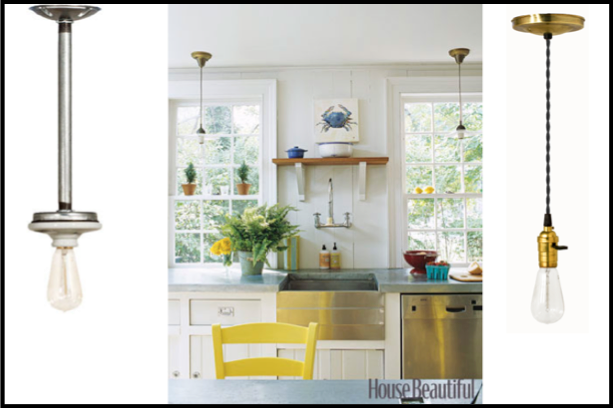 Vintage Industrial Pendant Lights Installed in Coastal Kitchen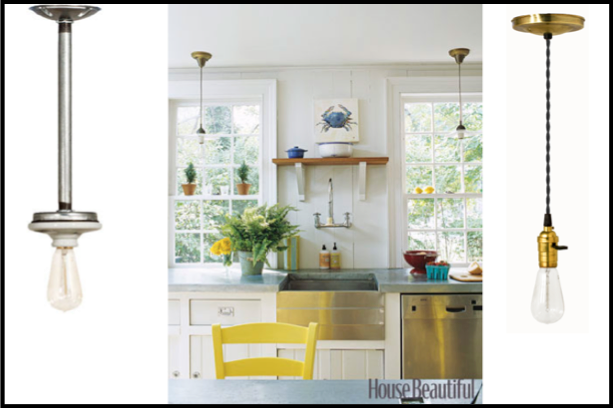 While our motto has always been: "Where Vintage and Modern Collide," this cheery kitchen could be described as "Where Farmhouse and the Sea Collide." Starting with the whitewashed plank walls and cabinetry, this is where industrial farmhouse tastes are evident. But once you start to focus in on the zinc counter tops or bright yellow and blue accents, the coastal influences begin to come out.
Between all of the above, this kitchen is practical and irresistible. Oversized windows with a picturesque garden view help to make washing dishes after dinner – not necessarily a bad thing. Because of the great view, a large warehouse light fixture would have overpowered the area; this is more than likely why the homeowner chose such small pendant lights. The Retro Renovation Porcelain and Galvanized Pendants (top left) are similar to the industrial pendant lamps seen in the photo. Built solely from a galvanized stem and a porcelain socket, you would be hard pressed to find another industrial modern pendant that looked so good!
That is unless you're interested in a cord hung light, such as the Minimalist Raw Brass Pendant (top right). As opposed to the previously mentioned industrial stem mount, this ceiling light utilizes a raw brass socket and canopy that is suspended from a vintage style cotton twist cord. While you're able to select which color of cord you'd like, another feature is the little paddle key for easy on/off convenience.
No matter what your choice in vintage industrial pendant lighting may be, an authentic, old looking bulb is a necessity too for these lights. Since there isn't a shade on either of these, our Nostalgic Edison Bulb is the best choice for these lights. Our Edison Bulbs are low wattage, so you won't be blinded by the light while you're doing the dishes or cooking.
Top Center Photo Courtesy of House Beautiful