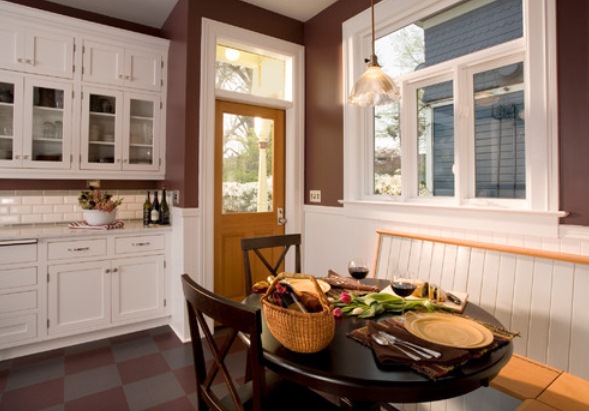 Vintage Glass Pendant Adds Delicate Touch to Kitchen Table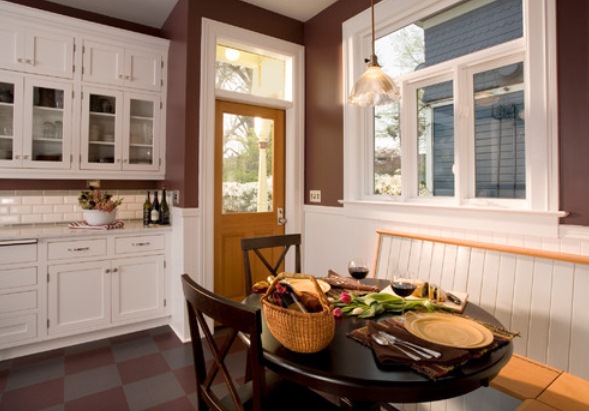 Whether you're rehabbing a 150-year-old classic or building a brand new house, you can have many of the vintage touches that give a home the kind of character that often takes years to create. In this kitchen, the wine tone is warm and cozy and well defined against the white, while the lighter shade in the playful checkerboard pattern in the tile floor creates a continuity in the palette. Vintage touches abound in this space from the banquette seating with beadboard accents, to the subway tile behind the counters, and the glassed front cabinetry. Our eyes were especially drawn to the delicate glass shade pendant hanging above the kitchen table.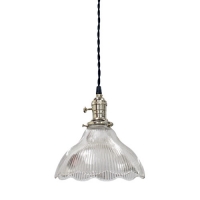 To get the look of this pendant in your kitchen, check out our 9″ Vintage Ruffled Holophane Pendant, part of our collection of Holophane Glass Pendants. These particular glass shades were designed to bend the rays of light downward and outward. This intriguing form of shade was first created by French physicist & engineer Andre-Eugene Blondel, and the first prototypes were produced by a manufacturing company known as Holophane, thus the name holophane glass.
This particular pendant is the perfect size for a small kitchen table or over a center island for a delicate touch of light. The fixture comes with either a polished nickel socket and knob or an unfinished brass socket with a turn key. Four different cord lengths are available, from 36″ to 72″, and the cotton cord comes in four colors to complement your décor. Like all of the lights offered on our Vintage Barn Lighting site, the shade has been cleaned and the socket and wiring are new. To add the perfect finishing touch for this classic vintage fixture, choose a nostalgic Edison style light bulb in one of several sizes and shapes that are available.
Top photo courtesy of Square Deal Remodeling Company and Nicks Photo Design