Vintage Chandeliers Welcome Guests in a Coastal Home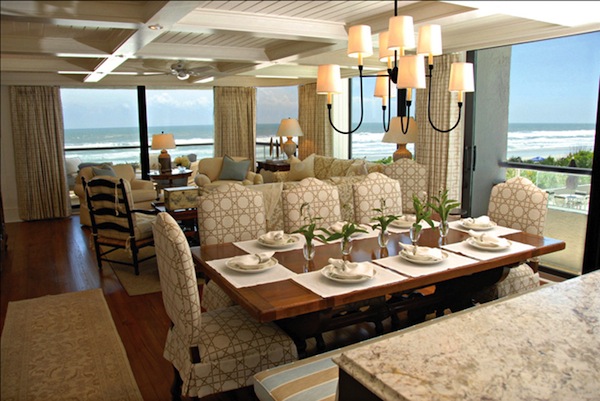 If you've ever had the impression that a coastal home is generally a cozy little beach cottage with white washed walls and galvanized lighting, think again! Taking a drive through your nearest coastal area (or browse through Pinterest), you will quickly notice that the possibilities are endless.

One common theme in almost all beach homes is their open floor plan. The rooms seamlessly flow into each other and are separated by furniture or plants as opposed to walls. This keeps the beautiful beach views in sight no matter where you are in the home. This particular home is perfect for entertaining. There is no shortage of seating, and honestly, who wouldn't want to hang out with a view like that? The vintage chandelier over the dining table adds to the inviting atmosphere. No, we don't mean "vintage" in terms of glittering crystal and silver, we mean styles like our Pomona Chandelier.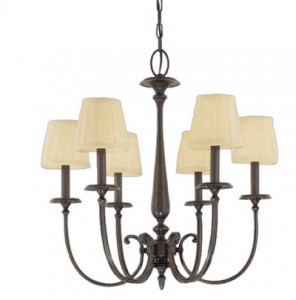 The Pomona Chandelier is essentially the exact opposite of glitzy and glam chandeliers, but it's still elegant nonetheless. Shown on the left in old bronze, it is almost identical to the ceiling fixture in the beach home. For a more modern approach, you can also consider choosing antique nickel to coordinate with nearby stainless steel appliances and an edgy color palette. The curved arms on the Pomona remain thin and not bulky. This too makes it a good feature to have for open floor plans as the 6 small shades won't become bulky or intrusive in the layout.
While the noted vintage chandelier fits in perfectly here, it can still work in your home too – even if you don't live at the beach. The featured old bronze finish and little lamp shades on top can also work wonders in cabins or country farmhouses that need that final elegant touch for family and guests.
Top Photo Courtesy of Atlanta Homes Magazine