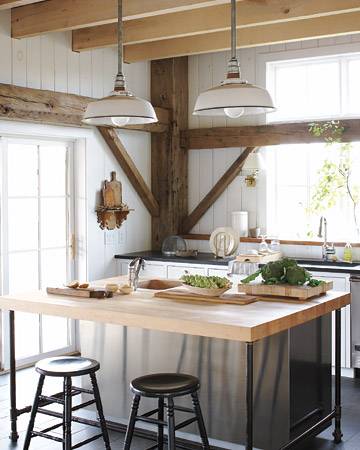 Using Vintage Warehouse Shades Within the Kitchen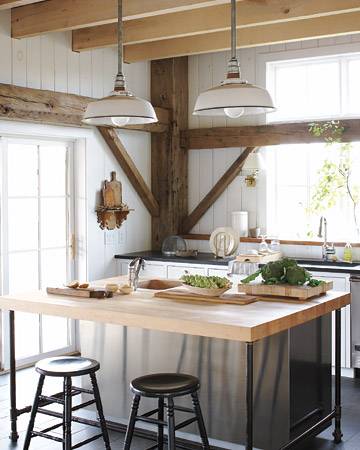 Some may love the look of our vintage porcelain lighting but remain unsure of how to incorporate explosion proof lighting into their homes. You certainly do not have to live in a factory turned loft to assimilate vintage warehouse lighting into your home. As a matter of fact, these lights look great in many atmospheres, such as a farmhouse kitchen shown above.

The industrial farmhouse design concept is one that is near and dear to our hearts; it is a style that is extremely flexible with multiple lighting and décor choices. Due to the gorgeous over sized windows, these pendants probably aren't used much during the daylight hours, however, in the evening, they are sure to provide more than enough light to the butcher block workstation below.
With the help of VintageBarnLighting.com and Barn Light Electric, styling your kitchen to look like this one is simple. Our very own white Vintage Vented Warehouse Stem Mount Shade has a similar design and appeal, but because they're vintage, we have a limited quantity available. If you happened to miss out, don't worry. Our 17 inch Benjamin® Bomber Porcelain Stem Mount Light is nearly identical. With the Benjamin® Bomber, you can select a white porcelain enamel finish (or choose from other colors if you wish). Your new barn light will even come complete with a black rim around the base – just like the warehouse lights of the past.
Barn Light Electric also carries a line of vintage industrial furniture with butcher block tops. The Armory | Vintage Industrial Work Station is a perfect choice for a kitchen island like the one shown today. Unlike the stationary one above, ours can even be moved around your workspace since it features wheels at the base. Use it indoors or outside as a workbench or garden station!
Photos Courtesy of Pinterest