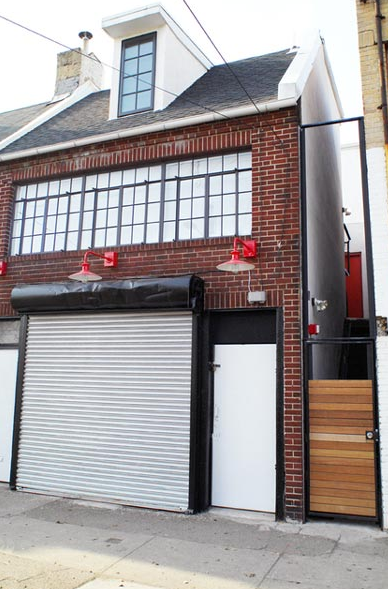 Transforming A Drab Exterior With A Modern Gooseneck Light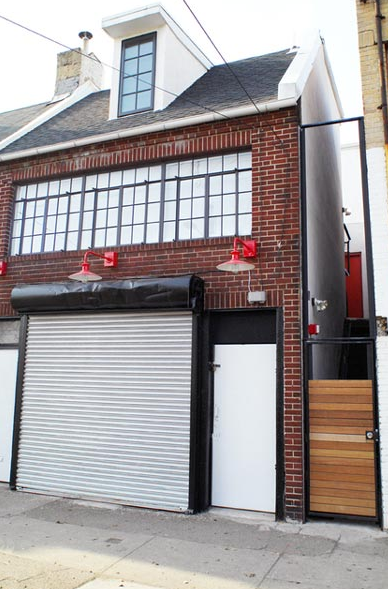 Photo Courtesy of Apartment Therapy
As Shown Above: The Everglade, B-6 Gooseneck Arm, 97-Red, Clear Glass, $441.
*Additional sizes and colors start at $247
America's larger cities are packed with rows of town homes and duplexes. With one right after the other, it's sometimes hard to add character and personalize your home or business. Not everyone has time time or funds to repaint the entire exterior, so, if it's a quick fix you're looking for, bring a splash of color and modernism to the front of your place by replacing the lighting.
Today's photo is a great example of bringing drab – to modern fab by installing three similar Everglade fixtures above the doorways. With little to no color visible, red was a great selection. The modern shade style of the Everglade keeps it's design clean, and fans smoothly out to the edges. For a modern look a strait B-6 gooseneck will keep the overall design sleek and contemporary; if it is a more traditional style you are needing, consider a B-1 or HL-A gooseneck arm.
The most distinctive feature of The Everglade is the open slotting located near the neck of the shade. When paired with one of six unique Jelly Jar glass options, this fixture sets itself apart from all other shades on the market. The open slotting allows light to escape through the top and fan out over the shade. This feature is unique to several Barn Light Electric shades and serves as a noticeable decorative feature, day or night.
The photo shown above, utilizes clear 'jelly jars' to protect the enclosed bulb. This unique feature comes standard on the Everglade, but can be added onto most Barn Light Electric products along with a cast guard. Our unmatched selection of gooseneck barn lights are ideal for businesses and private residence that see a lot of traffic around around their light fixtures, where concerns of bulb breakages are the common place. If the idea of a broken bulbs or sockets create concern, don't worry, the Everglade and many of our fixtures utilize cast guards or vapor tight glass jars. By adding the functional and sleek apperance of this light you not only create a unique look, but it can also inspire a more modern, industrial feel to the outside of your home.