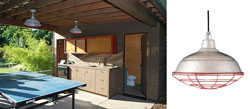 The Coolest Game Room (And Lighting) on the Block!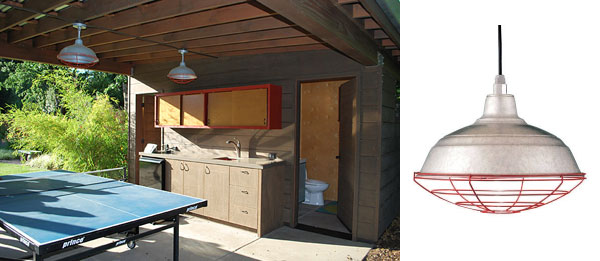 Summer is the season when kids (and adults too) spend the most time outdoors – including long after the sun sets. If you grew up in a home with a pool or treehouse, many of your fondest memories may have been made with family and friends in these areas. In the photos today, you'll see an extension of the pool house – fully converted into an outdoor game room and kitchen area! Homeowners chose to illuminate the space with durable stem mount warehouse pendants and wire cages. Thanks to these ridiculously cool pendants, the summertime fun and games don't have to end at dusk!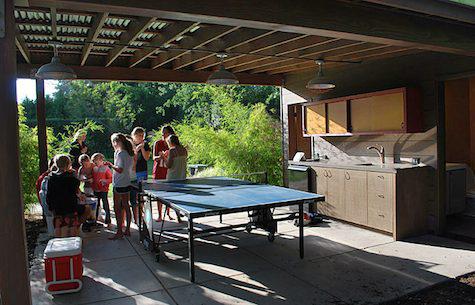 Each light was strategically placed to light the busiest areas of the space – over the kitchenette and ping pong table area. At Barn Light Electric, the pendant lighting pictured above is referred to as our Barn Light Warehouse Pendant. The pendants today were mounted with six inch stems – almost like a flush mount light. The light bulbs are protected with red wire guards that are available as optional add-ons. Homeowners couldn't have picked a better choice as this style of lighting was (and still is) common throughout sports stadiums and ticket boxes today!
Outdoor areas, like the one featured today, can easily be incorporated into your home too. Cost effective materials like reclaimed beams and galvanized sheet metal for roofing are an affordable alternative to creating an enclosed addition onto your home. Depending on your geographic location, a game room like this could be something the entire family can use, year round!
"The poolhouse was created to fill a landscape need in the compound of a previous client. The three main requirements were simplicity, economy and ease of maintenance. The choice of materials and uncomplicated design echoes the rest of the playground areas previously implemented by the clients and their landscape architect." – Remodelista

Photos Courtesy of Remodelista.com and Ana Williamson Architect