The Arlington Sconce | Newest Member to the Barn Light Family!
We've never been one to leave you hanging on the edge of your seats, just waiting for something new and exciting to happen, now have we? A few months back, we introduced to you a selection of new durable porcelain enamel lights, so it's about time we switched it up for our customers and added a new wall sconce to the family.

The Arlington Wall Sconce is a smaller barn light with apparent rustic influences. While the Arlington, at this time, does not come standard with our durable enamel coating, it is a scaled down version of the Goodrich® Esso Gooseneck Light. Now just because this new farmhouse light isn't a porcelain fixture doesn't mean that it won't maintain a vivid color. The powder coated finish is rich yet very rugged, and endures every harsh climate and any inhospitable outdoor area.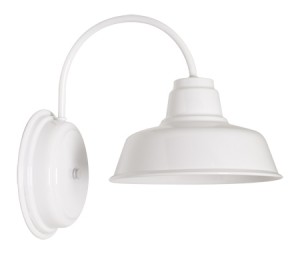 Not just confined to exteriorapplications, this versatile little sconce offers a variety of possibilities for many interior projects that seek a traditional RLM look with a shorter projection and a unique rustic style. Whether it is used for interior or exterior use, the finish options range between neutral and bold. If you were hoping to make a statement the options for red, green, and bronze might catch your eye. However, if you need to compliment an already busy area then you might benefit from a more neutral look, this fixture is available in black, white, or galvanized – a little bit or something for everybody!
Enough about the cosmetic details, right? The Arlington Wall Sconce, as previously stated, was inspired by gooseneck barn lights that pair rustic structure with a touch of modern grace. A slightly stacked neck is attached to the decorative wall mount by a simple, slender arc. For continuity, the mounting plate features a similar layered look as the tiny RLM shade. This design has been spotted throughout the rural United States on old wooden stables, sheds, and barns. Because of the small mounting plate, they can be used in between stalls and next to doorways; essentially anywhere that needs a light within a tight squeeze. We're willing to offer you up a great piece of mind – the Arlington is American made for durability, as well as long-lasting strength and style.