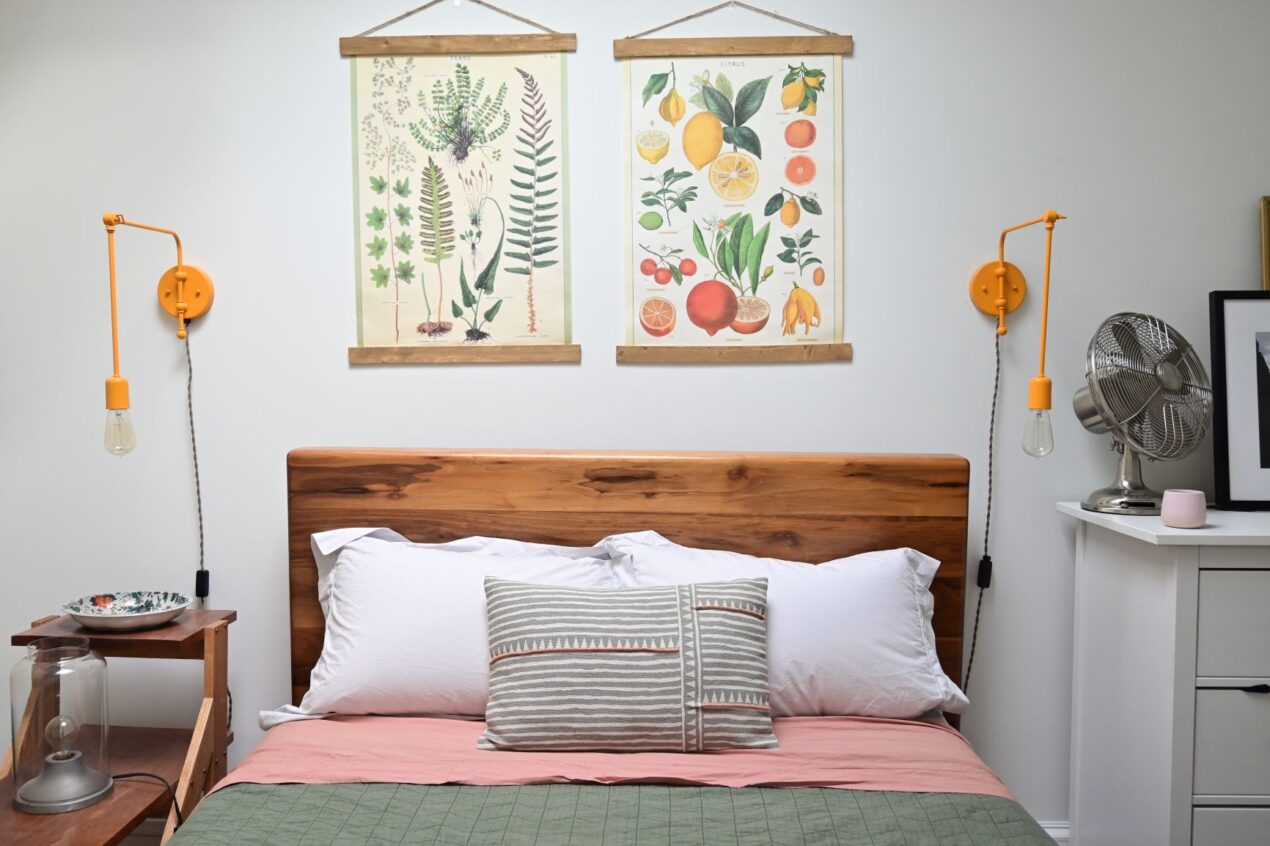 Swing Arm Sconces Put the FUN in Functional Wall Lighting
The guest room is often the ugly stepchild in home design. Why spend a lot of time, effort, and money making a room stylish and beautiful when it sits unused much of the time?
Our friends Barry and Jordan, aka the Brownstone Boys, beg to differ. When they decided to renovate the guest bedroom in their 130-year-old Brooklyn brownstone, they went all out to make it one of the prettiest rooms in the house.
"We wanted this room to be the brightest in the brownstone," Barry says. "We wanted bold contrast with pops of color." The windowless room now has a new skylight to shower the space with natural light. A good friend created a vintage botanical mural on the walls and a wooden headboard adds a rustic touch.
When searching for lighting, Barry and Jordan needed fixtures that were plug-in friendly and included an easy on/off switch that guests could control from the bed. They found the perfect solution at Barn Light Electric in the Downtown Swing Arm Plug-In Wall Sconce.
They customized this pair of wall sconces with brown-and-beige chevron twist cords and G67 arms that bring the lights 14″ away from the wall. The sconce can be moved horizontally, and a swivel knuckle adds even more adjustability. Picking the finish color, however, proved to be more difficult.
"We were debating between Dark Green and Sunflower," Jordan explains. "So we opened an Instagram poll for our followers to help pick out the color. Sunflower won by a lot, and we're certainly happy it did!" The slim profile of the swing arm sconce fits the small space while the bare bulb offers plenty of light for nighttime reading and creating an inviting ambiance in the room.
The Downtown Swing Arm Sconce also comes in a hard-wired version that is just as easy to customize with more than 30 finish colors to choose from plus mounting and bulb options.
"We love the vibrant color of these sconces but, truth be told, they look so subtle in the room next to the mural," Barry says. "The Barn Light sconces are the perfect lights for this room, and we think they really tie the whole space together."
Photos courtesy of The Brownstone Boys