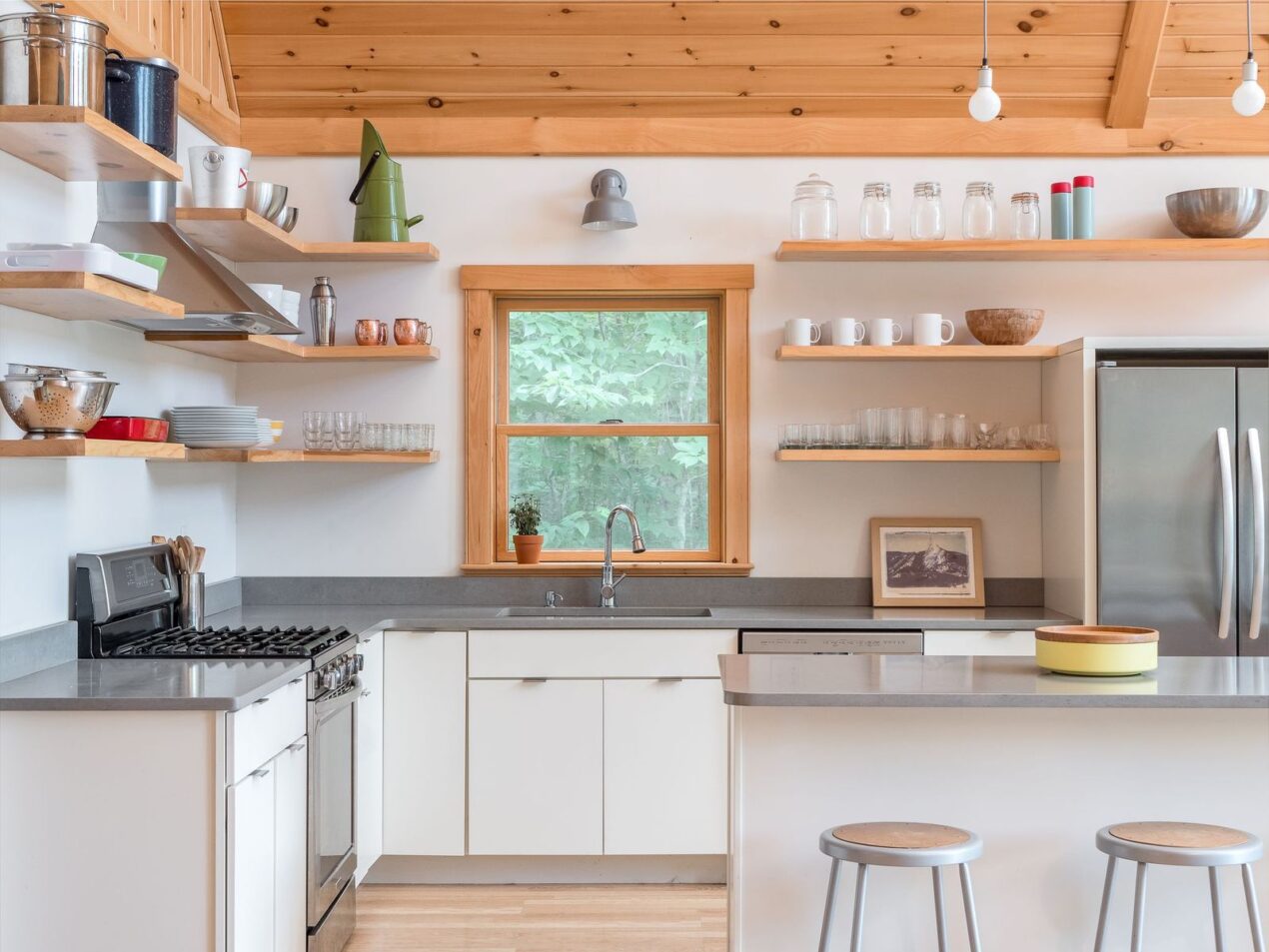 Easy-to-Customize Wall Sconces Offer Custom Look to Spec House
When choosing to build a home, a spec home offers distinct advantages over the headaches of building custom. Affordability is key. And months of decision making on items such as lighting and plumbing fixtures are handled by the builder or designer who use years of experience in knowing what will work for a specific floor plan.
When designer Hanna Schaffer took on a new spec home project in Bethel, Maine, she wanted to give it a more custom look than a typical spec house.
"Many of these homes have the same finishes like wrought iron stairs, dark granite countertops, and wood cabinets," explains the co-founder and principal designer of Forest+Ash. "We had to stay in the footprint of the house, but we had total freedom to change out the finishes. We wanted to create a fun, yet simple space that could be enjoyed by family and friends."
The four-bedroom, three-bath home features plenty of pine so Hanna opted to add other materials such as painted enamel, white laminate furniture, and vintage finds like fiberglass chairs.
"Throughout the house, we added pops of colors through the lighting and furniture," she notes. "Finish selections were important as we looked for colorful options for the bathrooms and basement then used more subtle options in the main areas of the house and exterior." She turned to Barn Light Electric which offers dozens of finishes in porcelain enamel, powder coat, and natural metals.
Hanna was drawn to the Bowie Wall Sconce for several areas in the home. In the kitchen, an 8″ handcrafted Bowie, finished in Industrial Grey, highlights the kitchen sink.
"We chose the Bowie for its price point and the many color options available," Hanna explains. "Since there are open shelves in the kitchen with a lot going on visually, we wanted a fixture that blended in nicely rather than stand out. The Grey finish ties in nicely with the Caesarstone countertops."
The same size and color of the Bowie Wall Sconce was also used in this bathroom to cast light on the twin sinks and mirrors. The Industrial Grey finish adds a subtle pop of color in this neutral space.
Hanna opted for a Navy finish for the Bowie Wall Sconce in this bathroom. The 8″ shade is compact yet provides plenty of light in the room.
"We chose Navy for this bathroom because it works as a neutral but offers a bit of interest," she notes.
For the basement, Hanna and her team wanted to add even more color and chose Barn Red as the perfect tone.
"We knew we were going with some pops of red in the basement," she says. "It's a fun color that fits in a modern ski chalet." On the stairs leading to the basement, a Streamline Industrial Guard Sconce lights the way. This rustic wall sconce is customized with the Barn Red finish, wire guard, clear glass, and no shade options.
In the basement bathroom, another guard-and-glass sconce brightens the space. This Atomic Topless Double Industrial Guard Sconce features the Barn Red finish, a standard cast guard, and clear glass.
Being able to customize each fixture with a variety of options to suit each individual space gives this spec home much more of a custom feel. Handcrafted in Florida and easy to build on the Barn Light website, these fixtures add just the right touch of color and style.
"The lights are timeless yet fun!" Hanna says.
Photos courtesy of Forest+Ash and Mainescape Media