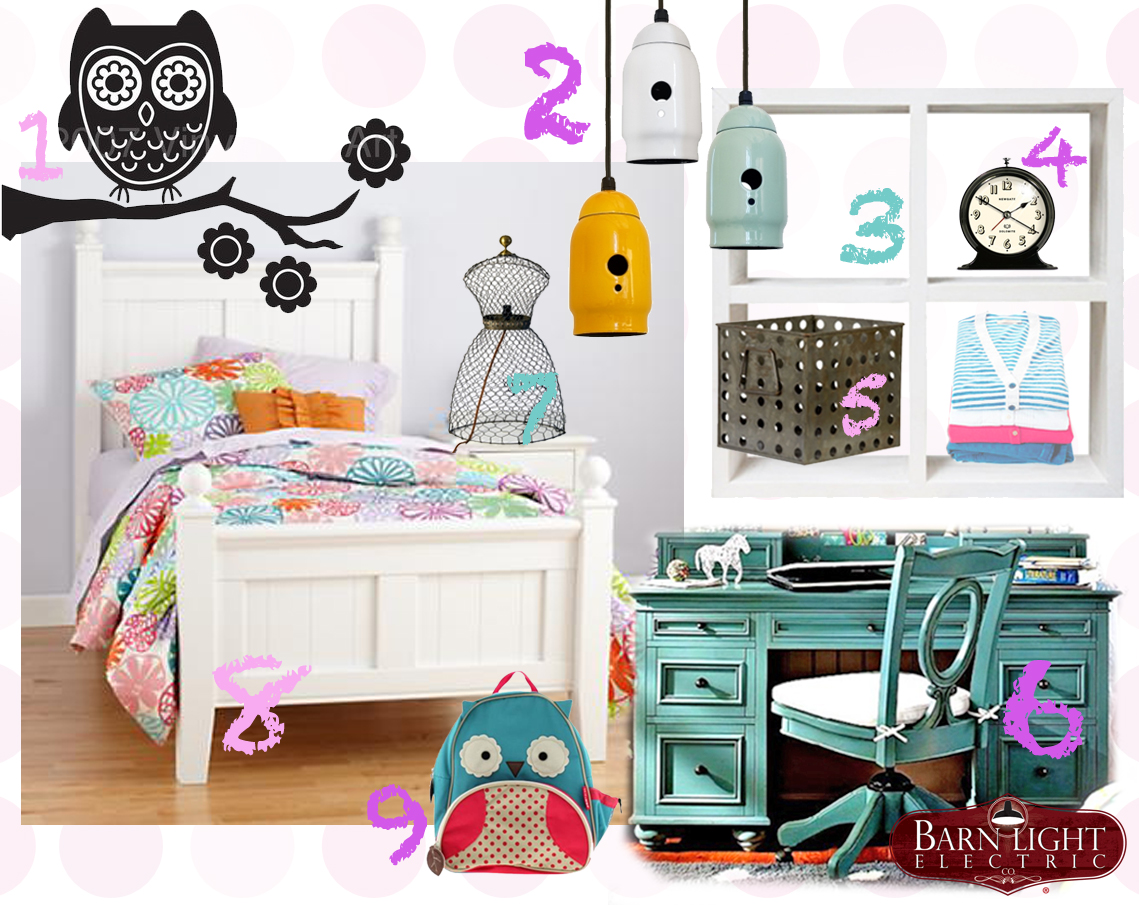 Style Me Sundays: Back To School Kids Rooms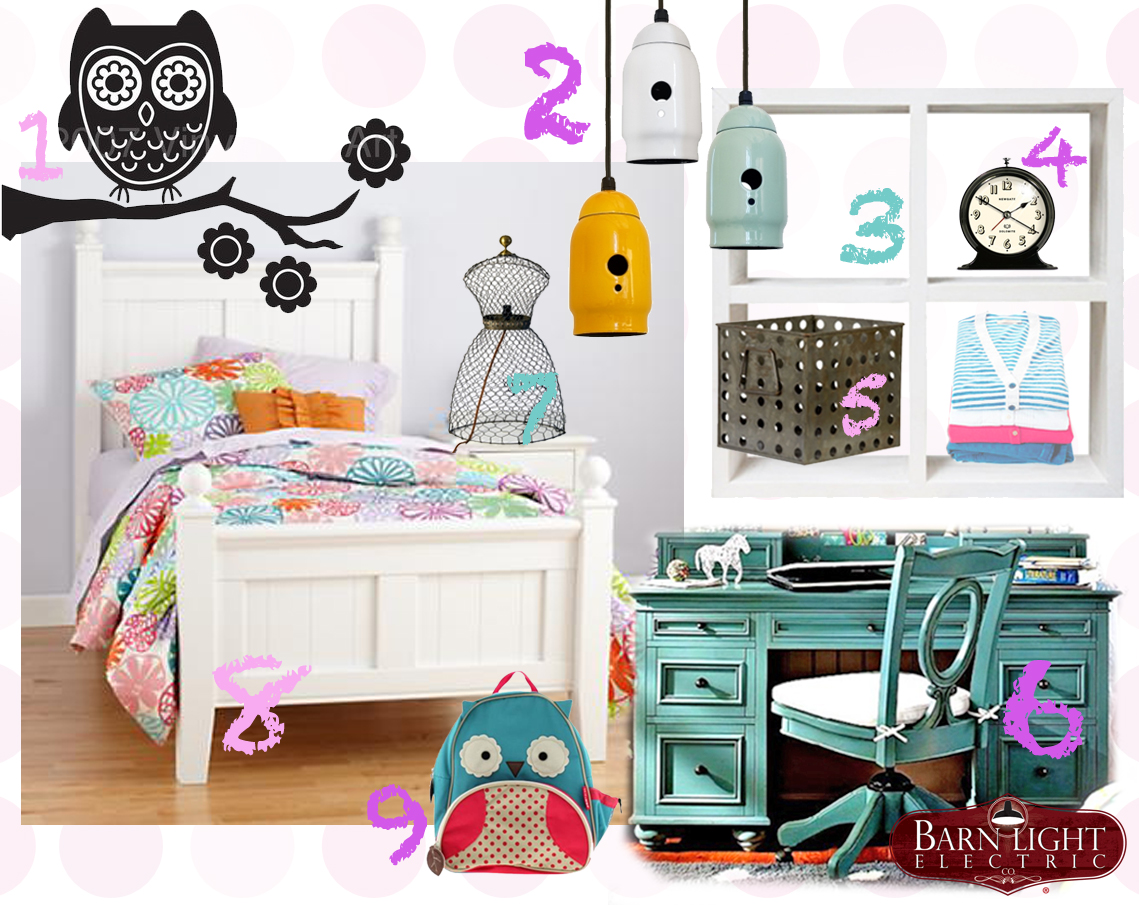 Hoot Hoot Time for School Girl's Room:
1) Owl Decal by Vinyl Wall Art 2) Ivanhoe® Mig Porcelain Pendant in Yellow, White, & Jadite by Barn Light Electric 3) Whitewash 2×2 Bay Bookcase by The Importer 4) Dolomite Alarm Clock by Barn Light Electric 5) Decorative Metal Cabinet Basket by Barn Light Electric 6) Desk photo by Home Design Décor Plan 7) Decorative Wire Mannequin Table Lamp by Barn Light Electric 8) Sunshine Day Bedding by The Land of Nod 9) Owl Backpack by Skip Hop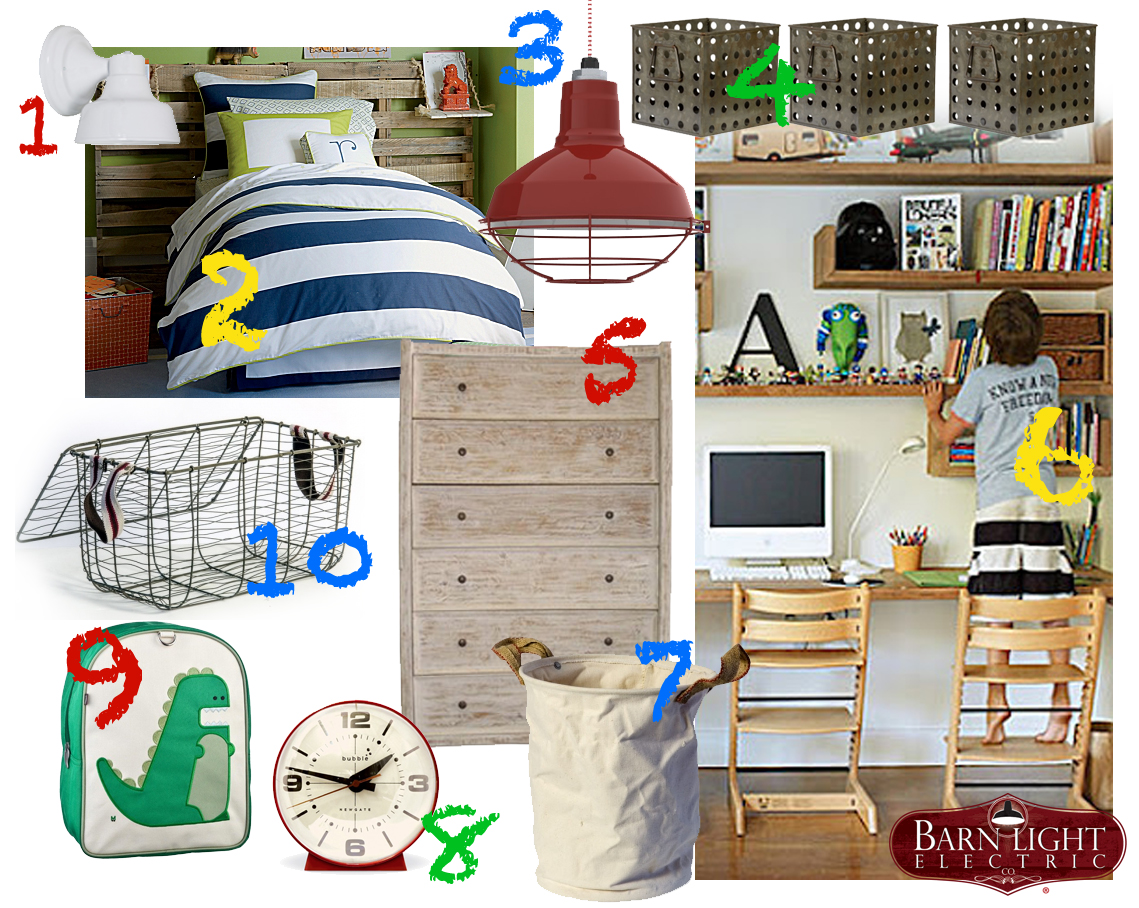 Rustically Organized Boy's Room:
1) Barn Light Bowie Sconce by Barn Light Electric 2) Bed photo by It's Overflowing 3) The Drake Cord Hung Pendant by Barn Light Electric 4) Decorative Metal Cabinet Basket by Barn Light Electric 5) Hampton Tall Boy, White Wash by Noir 6) Desk & Shelving photo by A House Like This 7) Canvas Baskets with Handles by Barn Light Electric 8) Bubble Alarm Clock by Barn Light Electric 9) Beatrix New York Little Kid Backpack by Diapers.com 10) Canvas Handled Wire Baskets by Barn Light Electric
It's that time of year again: Summer is coming to an end and kids are getting ready for a new school year. So, we decided to provide some helpful tips and adorable décor for girls and boys in this week's Style Board Sunday.
In addition to purchasing pencils, paper, and notebooks, consider reorganizing or redecorating your child's room for a fresh and organized start to the year. It is important that children have a space where they enjoy doing homework! Consider a brightly colored desk for a touch of fun, or a simple desk with shelving to avoid clunky hutches. Use wire and metal baskets with holes to store supplies and toys so your child can see what they're trying to access.
Before the first day of school, spend some time with your child organizing their room. This will help them to know where everything is when it's time to find supplies—and they'll know where to put things back when it's time to clean up.
For a fun touch to a girl's room, add a mannequin lamp that your daughter can display a few necklaces on for easy access in the morning.
Last but not least, don't forget to set your alarm. These alarm clocks are sure to look good in your child's room while helping them get up on time, grab these cute backpacks and make it to class before the school bell rings.