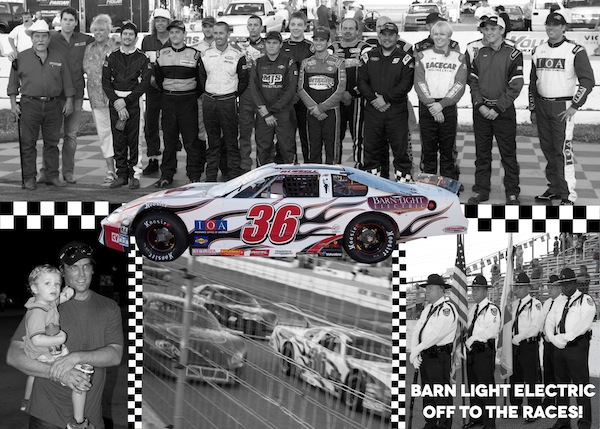 An Evening Under the Lights…No, Not Barn Lights!
With our location in Titusville, Florida, we're really at a prime place for local tourist attractions. To the east, we have Kennedy Space Center. To the west, there's Orlando and it's exciting theme parks, and just south is Miami and the Everglades. However, to the north is the world-renowned Daytona Beach International Speedway, the birthplace of stock car racing. This thrilling sport has grown exponentially across the globe, with a multitude of fans and viewers.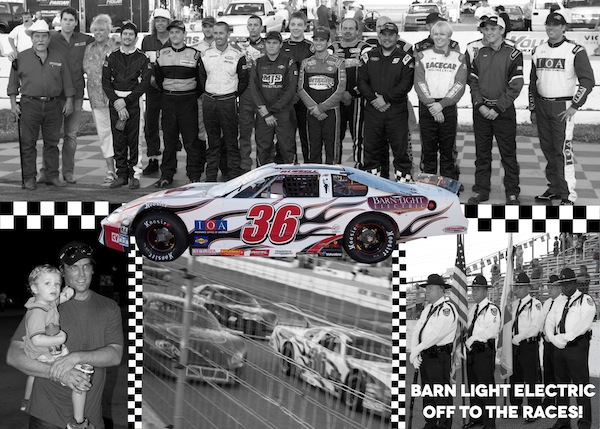 Last Saturday, September 8th, we had the opportunity to see the Barn Light name race around the track. While not at Daytona Beach International Speedway, we enjoyed the evening at New Smyrna Speedway, just a few minutes south of Daytona Beach. While you can't light an entire race track adequately with barn lighting (or can you?) we spent the evening with our friends and family watching an exciting FASCAR race. Barn Light Electric had the fortunate opportunity to sponsor Tim Russell Racing.
There were cheers, sighs, crashes, and bangs! Our driver held steady, maintaining a top 5 position throughout the majority of the race, mostly in 2nd place! Unfortunately, a yellow caution flag following a wreck set us back. With that being said, our driver did finish in 4th place! After the races, there was even more fun for the whole family. Go-cart races for the little ones gave them the opportunity to feel like they were in the driver's seat, fulfilling their need for speed – no matter how big or small.
Not only were there go-carts, but even a truck race made you want to stick around just a bit longer. Sadly, this race didn't last quite as long as the stock car race, due to a premature crash that surely got the crowd roaring! Long story short? Be on the look out for Barn Light Electric everywhere, not just when it comes to lighting!