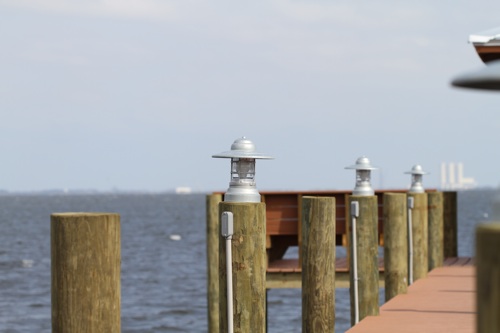 Iconic NASA VAB Looms Large Beyond the Galvanized Marine Dock Lights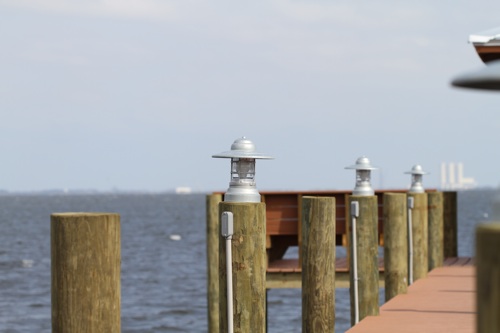 Marine dock lighting, focusing on the Iconic NASA VAB at the Kennedy Space Center, acts as a beacon drawing you out to enjoy the day and soak up the sun. In a few short weeks, winter will be officially over and the collective sigh of all those living north of Key West will be heard loud and clear. What better way to start spring cleaning by updating your docks and decks with our Barn Light Column Mount CGU Exterior Light. This versatile column mount fixture would be welcomed not only wood pylons, but on wood, brick, masonry, and stone columns. Available in over 40 finishes ranging from the industrial galvanized to the upscale copper, these fixtures are sure to become the focal element of your project. As pictured above in Galvanized with Clear Glass, these budget-friendly lights are a reasonable $203 each.

Looking across the Indian River, one can't help but ponder the fate of the NASA Manned Space Program. For those of us who call the Space Coast "home", this view is as familiar as the Empire State Building is to New Yorkers. Standing tall and proud, this building boasts the title of being the worlds tallest one-story building. From the Saturn V to the Space Shuttle program, it has been a shining beacon lighting the way for space exploration. As the shuttle program winds down, leaving only 4 flights remaining, the manned spaceflight program is at risk of being eliminated.
Save Space is a grassroots movement dedicated to bringing to the nation's attention the plight of manned space exploration. Human space exploration drives not only the technology that enhances quality of life, it inspires future generations. The space program is responsible for breakthroughs that have advanced medical care in detection and prevention related to cancer, heart disease, and osteoporosis. Other advances include fetal monitors that protect newborns in addition to many other medically related devices including dialysis and mammograms. The question of continuing manned space flights primarily with federal funds or pursuing more private sector funding is complex. What is not complex is this. America's leadership in space exploration is vital.