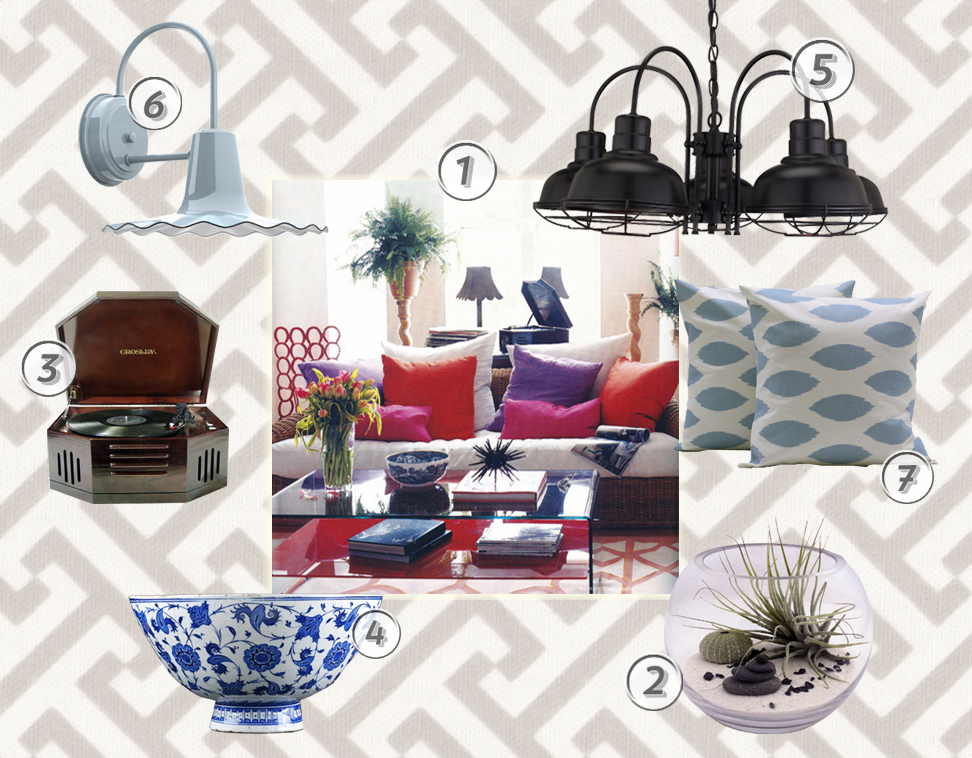 Style Me Sunday: Something Old, New, Borrowed & Delphite
Something old, something new, something borrowed, something blue… Sometimes the marriage of a great interior is about all of the elements coming together and creating a stimulating and creative atmosphere. We were inspired by this harmonious space that combines contrasting elements (like the lush pillows on the rattan couch besides a cold, glass coffee table) and accessories that shows the home owner's personality (like the fresh plants, urchin table ornament, and books). Love the look? Make it your own with these simple tips…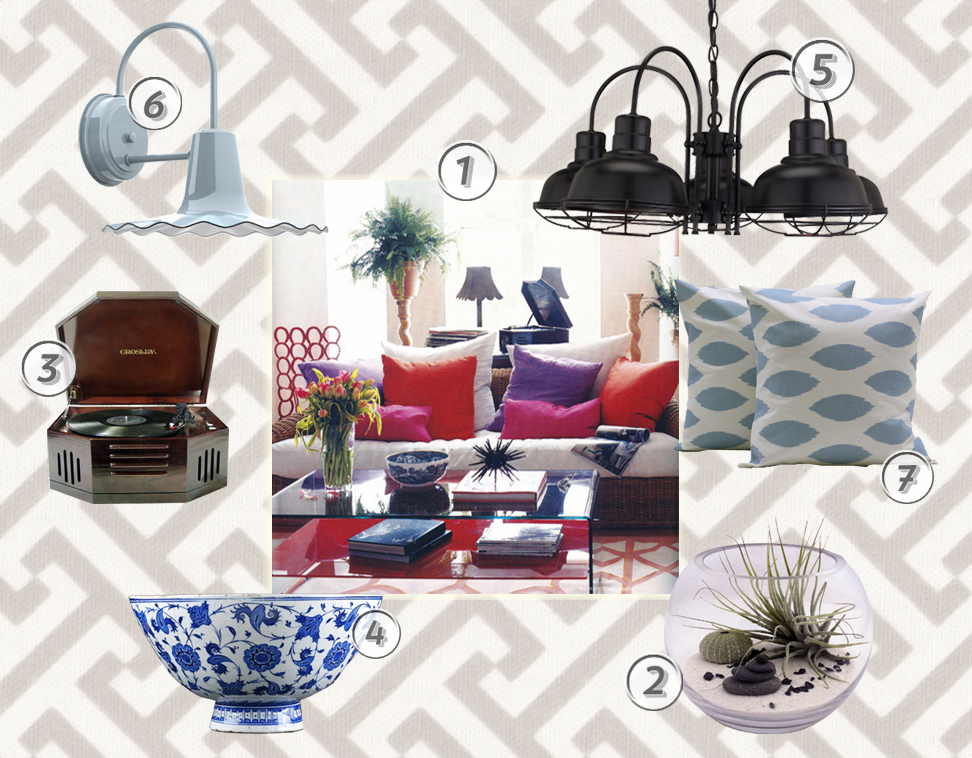 Something old. With so much history and character, antiques like this Fritware bowl have both function and style. Vessels with painted cobalt details are timeless and easy to find.
No atmosphere is complete without music. Take a trip to your local thrift store or nostalgia shop and pick up a classic record. Look for a vintage record player that is lovely to display, like this replica-style Crosley CR46
Something new. While it's hard to go wrong with re-wired vintage lighting fixtures, vintage-inspired RLM shades are a great option when you are creating a custom space. The Star Barn Pastoral Chandelier comes in a variety of finishes and accessory options.
Plants and foliage add instant life in every room. For a little pop of freshness, try a mini Garden Terrarium. Use a small zen garden like this to display your favorite natural findings.
Something borrowed. Hopefully you'll incorporate some of these free tips in your home — you're welcome!
Something blue. You can never have too many throw pillows! When they spill off of the couch, just place them on the floor for guests who prefer "firmer seating." A down pillow inside of this Decorative Contemporary Pillow adds a soft touch of blue—just in time for spring!
Our newest porcelain finish, Delphite blue, has a soft and powdery hue that makes a lovely accent color. For a festive looking light, this LED Wheeler™ Seaside Radial Wave Sconce is just the ticket!
Domino Mag Interior from Flickr | Garden Terrarium from XercesArt | Crosley CR46 from 4buy4 | Antique Fritware bowl | The Star Barn Pastoral Chandelier from Barn Light Electric | LED Wheeler™ Seaside Radial Wave Sconce from Barn Light Electric | Decorative Contemporary Pillow from PillowsbyWillow

Would you like to win some of the items on today's Style Me Sunday? Visit our Pinterest page to participate in our Pin Your Dream Space giveaway!
For more information, visit our site.