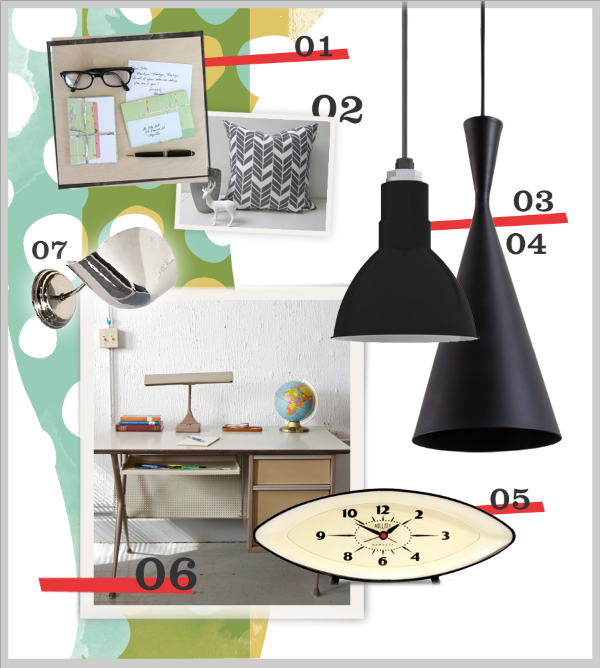 Style Me Sunday: Mid Century Modern Office Style
Our love of mid-century style runs long and deep — from streamline moderne to atomic age industrial. Geometrical, aeronautical angles and emphasis on clean, simple lines take center stage in this trend and are perfect for office and organizational spaces. In our mid-century inspired office, we are taking our favorite elements of this interior design style and making them relevant for today's home.

Every office and craft room needs a great work space. This Retro White and Gray Desk has a slim style that would look great paired with a cozy, tufted chair. It's important to remember these contrasting accents that infuse current products — after all, you aren't working in a time capsule!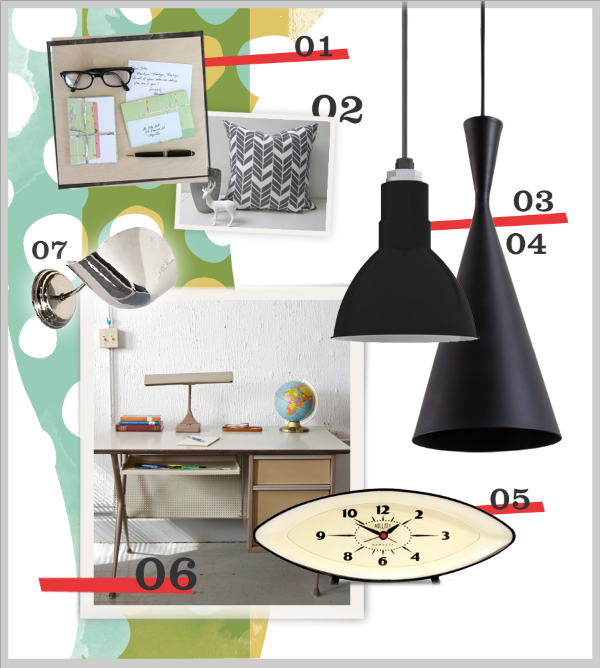 A Storm Grey Chevron Cushion makes a bold and artistic accent.
Put your space to work by composing some thoughtfully worded letters on memorable, hand-crafted Map Stationary. Retro lighting and clocks will remind you of iconic designs and designers like the Mouille Style Eye Wall Sconce and Bullit Mantel Alarm Clock.
We've expanded our line of Modern Pendants! Influenced by tribal beat lights, our Diwali Modern Pendant has sculptural impact that takes your pendant lighting from "blah" to "wow." The Madrid Modern Pendant has a classic deep bowl light shape, but its compact size makes it perfect for contemporary rooms with constricted space. Even small spaces deserve swag lighting!
1. Map Stationary from bookBW | 2. Storm Grey Chevron Cushion from belljarinteriors | 3. Madrid Modern Pendant from belljarinteriors | 4. Diwali Modern Pendant from BarnLightElectric | 5. Bullit Mantel Alarm Clock from BarnLightElectric | 6. Retro White and Gray Desk from departmentChicago | 7. Mouille Style Eye Wall Sconce from BarnLightElectric