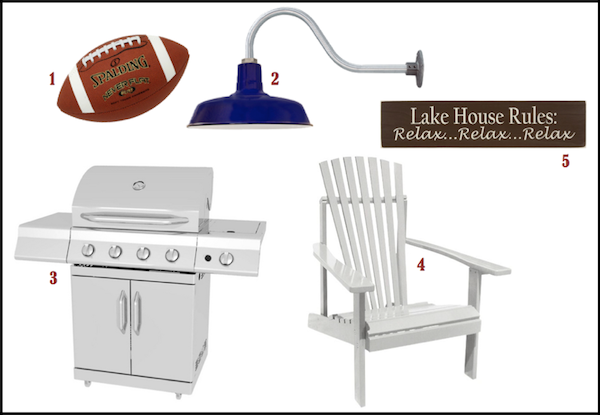 Style Guide | Porch Lighting Just in Time for Football Season
Are you looking for a great way to spend time outside with your family and friends? Of course you are, but you might find that your porch is lacking something – what could it be? An uninviting outdoor room won't attract many weekend visitors, so we've put together a guide for a few Autumn necessities to help your porch and tailgating party planning.

The easiest way to bring people together is great food and a pick up game of football. Throw on a few steaks, hot dogs or burgers on the Master Forge Gas Grill we picked out, and you can host a cookout for those closest to you.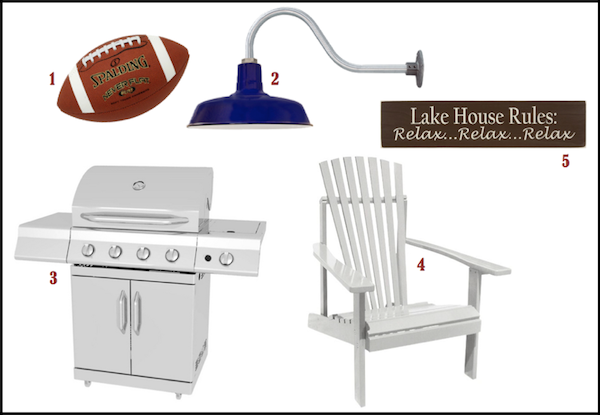 1) Spalding Never Flat Football – Target, $19.00
2) Goodrich® Sky Chief Enamel Gooseneck Light – Barn Light Electric Company, $274.00 as shown
3) Master Forge 4-Burner Stainless Steel Gas Grill – Lowes, $379.00
4) Outdoor Patio Wood White Adirondack Chair – Target, $99.00
5) Lakehouse Rules – Target, $39.99
While they're waiting to dig in, keep them busy with our selected never flat football. A good game of touch or flag football is a fun way to get everyone's heart rates up, while working up a hunger for the main event. A place to rest is always welcome too, especially a roomy Adirondack chair that you can sink into. Our chosen option from Target is reasonably priced, so you may only need a couple, or place several around an outdoor fire pit.
As the sun fades into the horizon, don't be left in the dark. Our very own Goodrich® Sky Chief Porcelain Warehouse Shade in Cobalt Blue is eye-catching and functional. Your guests are likely to comment on it, especially if you choose an enamel finish that matches your favorite team's colors. Our Sky Chief is a Barn Light Electric exclusive, proudly made in America and durable enough to last season to season.