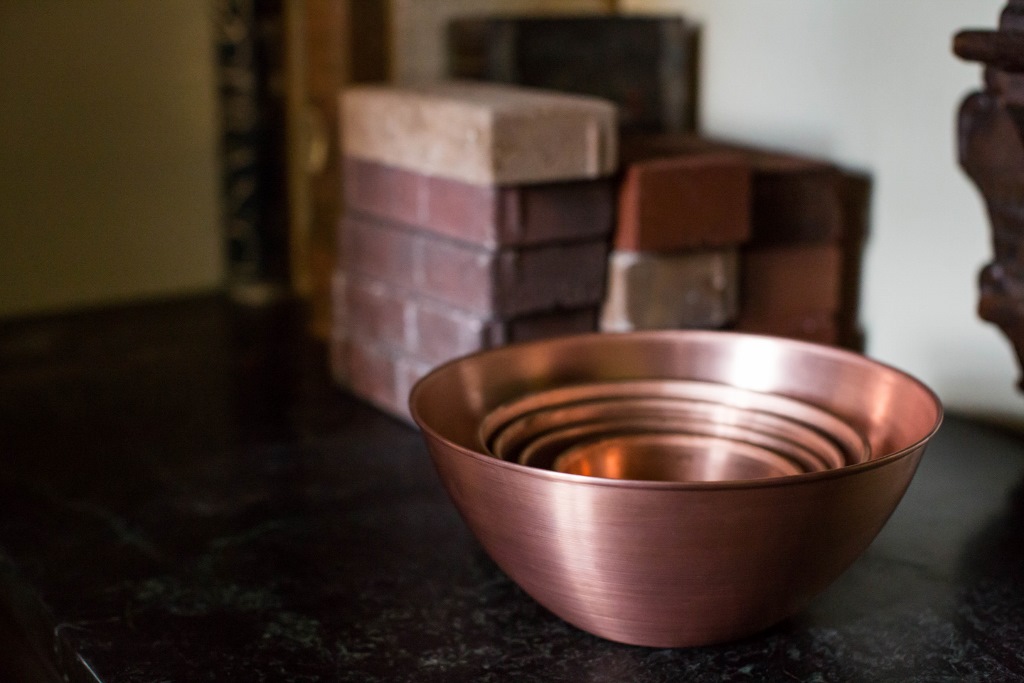 Solid Copper Bowls Combine Natural Beauty with Unrivaled Functionality
As soon as the carcass is simmering on the stove and the leftover potatoes tucked safely into the fridge for tomorrow's breakfast, I am left to ponder the perfect gift. While millions of people desperately seek a parking spot and elbow their way to the best sales racks, I sip my tea and think about something both beautiful and useful.
Something bright and shiny that looks lovely sitting on the counter but is functional too. A go-to piece for the kitchen that makes friends and family stop and say, "Wow!"
The newest offering in our line of Home Goods solves my dilemma — a Set of 5 Solid Copper Nesting Bowls hand spun to perfection from raw copper. This beautiful, American-made collection of prepware includes a copper egg beating bowl, pudding bowl, dry goods mixing bowl, serving dish, and a single serving bowl.
The beauty of copper is its very nature — a living material that will age gracefully over time to a natural patina. Or, if you prefer the brilliant shine of copper, you can polish it to perfection with a simple cleaning after use. A copper bowl makes a stunning centerpiece when filled with fruit, nuts, or a dried arrangement.
If you're a baker, you have two choices of cookware in the kitchen — reactive and non-reactive bowls and pans. Copper is a reactive material as are cast iron and aluminum. Without going too far back into the high school chemistry curriculum, I will tell you that in some food preparation, using a copper bowl can be beneficial!
A copper bowl has ions that, when mixed with the proteins in egg whites, makes the egg foam more stable. These ions also react to the sulfur in the eggs helping to stiffen them. The result is that if you whip egg whites in a copper bowl to make Grandma's famous meringue, the whites are less likely to collapse and unfold. My chemistry teacher would called that denatured. Grandma would call it a disaster.
Whipping cream also stiffens more quickly in a copper bowl so you can ditch that plastic tub of frozen stuff full of hydrogenated oils and high fructose corn syrup and impress your family with sweet, fluffy, homemade whipped cream. Grandma smiles!