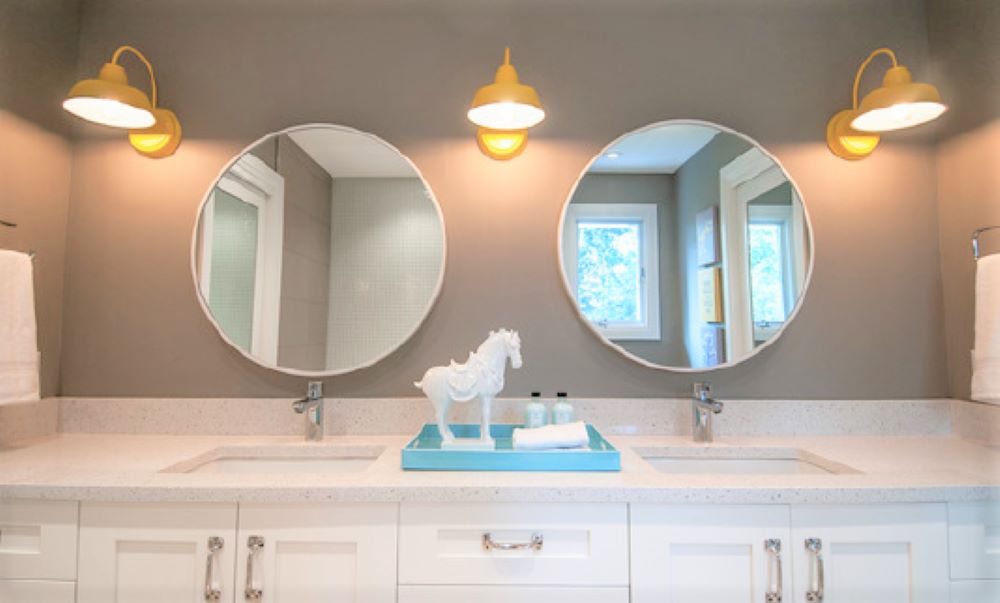 Interview with Canadian Designer Alykhan Velji
If you follow the Barn Light Electric Facebook page, you may have noticed a photo yesterday from one of our favorite north-of-the-border designers — Alykhan Velji of Calgary, Canada. We featured Aly's special touch in a previous blog post when he created a nursery using a sophisticated palette of grey and white then highlighted the space with brilliant yellow accents. Aly has worked his magic again in a child's space, this time a bathroom, where the color yellow makes another splash.
Q: Was this a new space or a remodel?
A: This bath, located in a Calgary home, was a renovation, a reconfiguration of sorts.
Q: What were some of the considerations or issues you had to contend with as you worked in this space?
A: There was a sink in each bedroom but the water closet and tub were shared in the original space. We opened it up to create more of a cohesive space with a large vanity with lots of storage and two sinks.
Q: What feel were you going for with the color and fixtures?
A: We wanted to create a space that was fun. But also a space that wasn't too young, one that would grow with the kids.
Q: Why did you choose the Esso Wall Sconce for the space?
A: I felt that this style was perfect for the space because it adds a vintage and rustic vibe to the space. They are also unexpected for the bathroom.
Q: Any why the Buttery Yellow finish?
A: This colour is so fun and vibrant. They are the perfect pop of colour.
Q: What are some of the things homeowners should consider when choosing bathroom lighting?
A: When thinking about wall sconces, you want to ensure there is enough light coming from them and that they are placed at the right height. If the sconces are decorative, you want to ensure there are other sources of light as well such as pot lights.
Q: What do you and your client like best about the new lights?
A: I love the lights! They were the final touch that this space needed to create a fresh, young, and modern look in this bathroom. One that any kid would be lucky to have.
The Esso Wall Sconce is an American-made wall light crafted from commercial grade materials and available in both 8″ and 10″ shade sizes. Choose from more than two dozen durable powder coat colors to finish this RLM-inspired warehouse shade that is suitable for both indoors or out. If you plan to use this sconce outdoors, consider adding a dusk-to-dawn photocell which will automatically turn your light on at dusk and off at dawn. Save time and energy with this popular feature!
Photos courtesy of Alykhan Velji Designs and Bookstrucker Photography