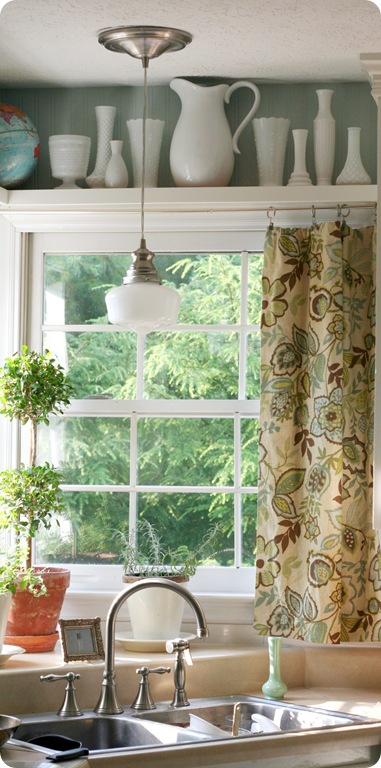 Small Schoolhouse Pendants That Light Up the Kitchen Sink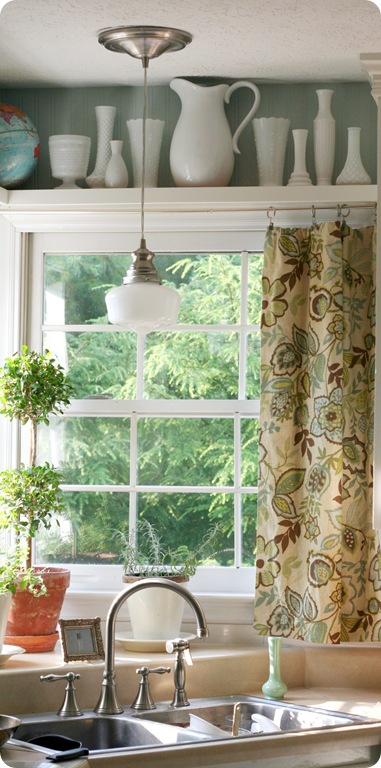 Lets face it, aside from doing laundry, washing dishes is also up there on the not-so-pleasant list of chores. The motto "I cook, you clean" has gained huge popularity, whether it's amongst college roommates, newlyweds or a just growing family. But what if you had a sink area like this? You might be the one offering to help clean up instead.

It's important to make areas like these a little more pleasant – even a stylish laundry room with bright colors and vintage wall sconces can invite you in for an enjoyable time while sorting socks and folding towels. So who's to say that you shouldn't make your kitchen sink just as beautiful? Utilitarian in nature, the function of the space should still flow easily. Here, large windows with a gorgeous view let in natural light during the daylight hours. Make sure you add a trendy curtain to coordinate with your décor, but don't feel inclined to have to buy curtains from the store – DIY curtains are super easy and affordable. Purchase your favorite fabric and get to creating that personalized look.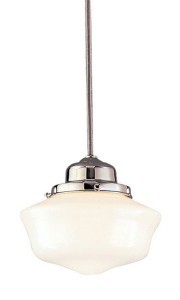 Since we're on the subject of natural light, we all know that when the sun goes down or when those rainy days pop up, we need some sort of additional kitchen lighting to see by. Here, a small schoolhouse pendant does the job perfectly, all while complementing the surrounding décor and elegant country scheme of the kitchen. For an almost identical look, the Reardan Pendant has a petite frosted glass globe with a stem in the finish of your choice (polished nickel is shown on the left). Schoolhouse pendant lighting has a special place in the history of lighting, holding the title as of one of the most flexible ceiling lamps for the home or office.
Top Photo Courtesy of 320 Sycamore