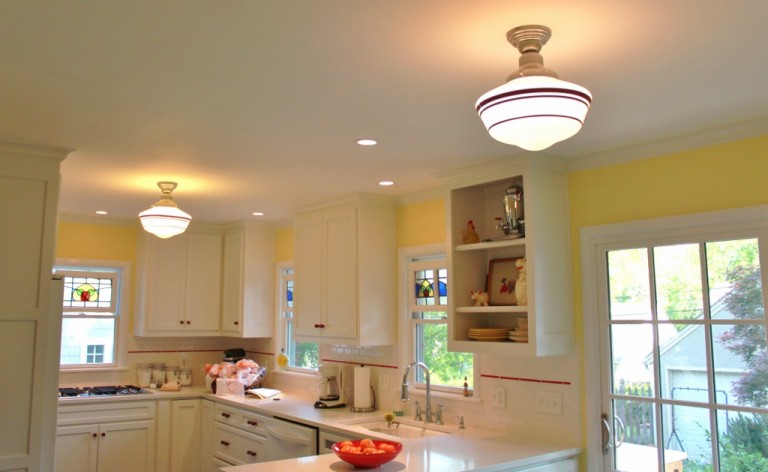 Schoolhouse Pendant Lighting Easy to Customize for Distinctive Look
Barn Light Electric was born from a passion for vintage-style lighting. Inspired not only by the designs of early 20th century lighting, our owners also appreciated the durability and craftsmanship they saw in pieces found in antique stores, at estate sales, and even when poking around old buildings. They have built their business recreating many of these time-honored styles while offering new materials, finish colors, and customizing options for a fresh twist on old favorites.
For many years, schoolhouse lights were simple hand-blown, glass globes crafted to conceal the bare bulbs typically used in the 1920s. These opaque globes transformed a basic necessity into a design element that added style to public buildings and schoolhouses and also eliminated the harsh glare of a dangling bulb.
The classic, cord-hung schoolhouse pendant, such as this Primary Schoolhouse Light, comes in two globe sizes and a variety of cord colors and styles. A simple opaque globe can be transformed with a red-and-white chevron twist cord or perhaps a gold-and-black cotton cord would add just the right touch of elegance to the dining room table.
To add even more personality to your schoolhouse light, consider adding a painted band of color to the globe. This splash of opaque color is available in one, two, or three bands as shown above.
For low ceilings or tight spaces, a flush mount ceiling pendant like the Primary Schoolhouse Flush Mount Light offers all of the schoolhouse charm in a clean and timeless design.
The newest additions to our collection of schoolhouse pendants are the Brass and Copper schoolhouse lights. Several of these gorgeous fixtures come in either the traditional opaque look or the new clear glass globe which provides brighter light.
Copper makes a style statement like no other. Hand spun from raw copper and crafted with care in our Florida manufacturing facility, these classic lights are designed to last for generations. Also available with LED!