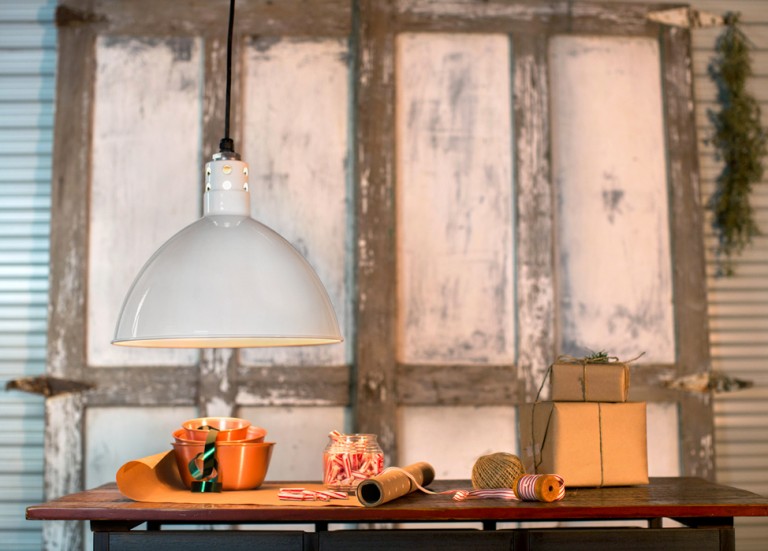 How To Customize Ceiling Pendant Lighting Without Leaving Your Chair
So you've finally decided to spruce up your kitchen with some new ceiling lights. If you've done your research, you probably searched Pinterest for ideas, popped over to Houzz to see what's happening, and maybe even read the Barn Light Electric blog for inspiration!
Once you find the perfect style of lighting for your space, the real fun begins with our customizing options. Unlike your neighbor who simply grabbed an off-the-shelf, builder-grade pendant that won't last till next Easter, you can easily customize a rugged, American-made ceiling pendant to create a stunning complement to your dècor.
Let's look at The Original™ Vented Pendant Light which is a classic barn pendant light. On the product page, the first choice is to select a shade size. If in doubt about what size to choose, cut a 12″ circle out of cardboard or card stock, poke a hole in the middle, pull a string or rope through then knot it on the underside. Hold it up and that will give you a good idea of how wide a 12″ shade will look over the table. This Original™ Pendant Light comes in 12″, 14″ and 16″ sizes.
Keep in mind that a shallow bowl shade, such as an Aero, allows the bulb to show more so it throws light a bit further than a deep bowl pendant like the Wilcox which offers a more focused spread of light.
Next up, you have plenty of powder coat finish colors to choose from. We've covered all the traditional hues from Black, White and Galvanized…
…to more fun and vibrant tones of Teal, Magenta, and Cobalt Blue.
With the vented ceiling lights, the neck features circle or slotted vents to allow bits of light to escape over the top of the shade. Your choice!
When choosing the cord for your barn pendant, the location will determine whether you choose a dry-rated cord or a damp-rated cord. See this blog post for a full explanation of the difference! Once you decide which type of cord is best for your installation site, you have an array of colors to choose from. Some people like to jazz up the cord for a pop of color especially when paired with a black or galvanized shade, while others choose a complementary color of cord to make the shade take center stage.
Your ceiling canopy, that flat circular disk on the ceiling that hides the electrical box, is also easy to customize. The canopy can match your shade color or you can choose black or white.
The last drop-down menu is the option for a wire cage which adds a touch of vintage style to this ceiling light. If you choose to add the cage, simply select that option then choose the finish color. And that's how easy it is to create a custom-made, vintage-inspired light for your kitchen!