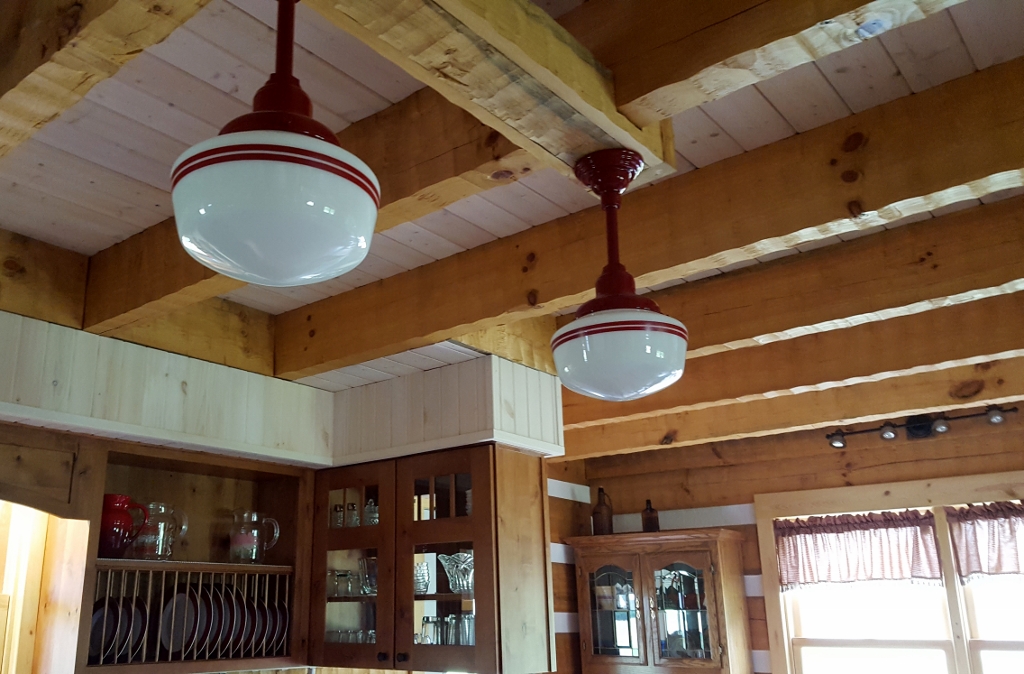 Schoolhouse Lighting Accents Log Home Kitchen with Vintage Style
A room's design often starts with a single element. A favorite fixture perhaps. A must-have piece of furniture. Or, in Debbie's case, a favorite color. While "dancing around" Pinterest, Debbie found her dream space — a log home kitchen complete with red cabinets.
"I really wanted the red-and-white color scheme," Debbie says. "I bought a set of vintage red salt-and-pepper shakers, then a friend gave me a sugar-and-creamer set in red milk glass from her mom's old kitchen." Working with Hearthstone Log Homes, Debbie and her husband created their new log home in Ohio where Debbie's dream kitchen turned into a reality.
In one of her many forays on Pinterest, Debbie stumbled across Barn Light Electric's Primary Schoolhouse Stem Mount Pendant Light and, as she says, "I had to have 'em!"
"I first thought I wanted all red cabinets in the kitchen, but then my intelligence kicked in," she says. "I wasn't sure I wanted to live with it for 30 years so we decided to continue the rustic look in the cabinets and use the reds as accents." Debbie customized her new American-made schoolhouse lighting with a Barn Red canopy and stem plus double painted bands of Barn Red around the globe.
"I chose the Barn Red over the plain globe just to pull the whole red scheme together," she explains. "I like to bake and I use the island for everything related to baking. The lights hang high enough so no one bumps their head, and they give great light over the work area. The schoolhouse lighting is so vintage!"
Debbie's new home and kitchen are crafted from hand-hewn Eastern White Pine logs with plenty of knots that add to the character of the space. The interior features a light honey stain with white chinking which complements the red accents and, as Debbie notes, looks like the log cabins from 200 years ago. The schoolhouse lights bring a classic look to the space that will never go out of style.
"I love the vintage look so maybe I'm too deep into the whole vintage thing. But I use vintage towels from the antique store, the old salt-and-pepper shakers, and old bowls from my mother-in-law," Debbie says. "I also like the fact that, for once, I can buy something made here in the good old USA!"
Photos courtesy of the homeowner