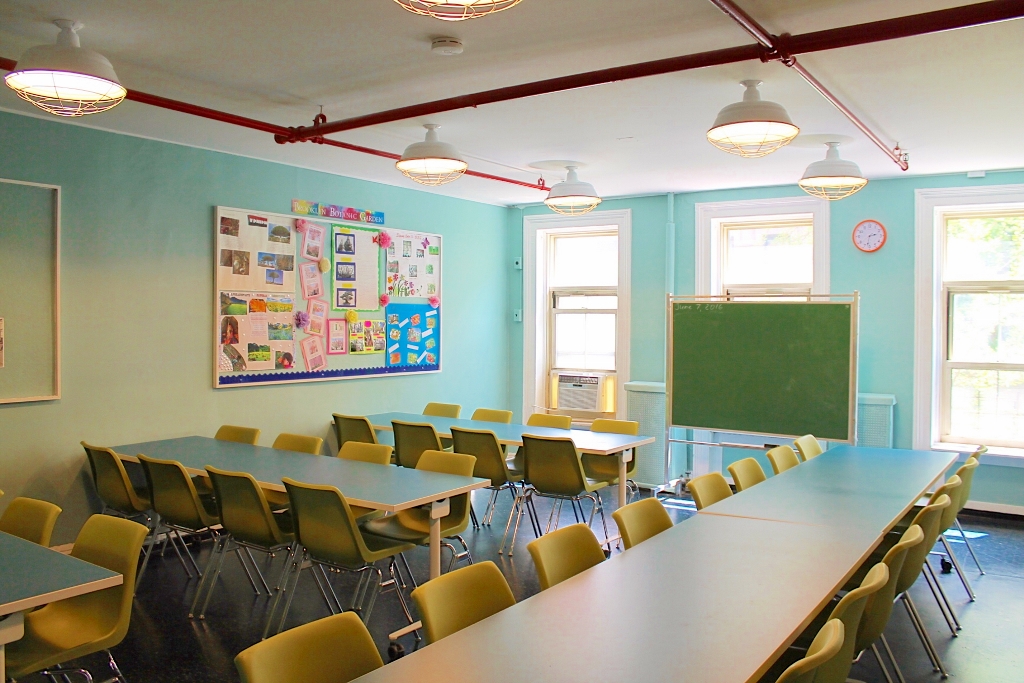 Classic Porcelain Pendants Brighten New York Community Center
Hell's Kitchen doesn't exactly sound like a place where you want your kids to hang out.
The Hartley House, located in the heart of Manhattan's Hell's Kitchen, is certainly an exception. Founded in 1897, this center is a haven not only for kids but for the entire community with camps, after-school programs, adult education, and senior programs. The space recently underwent a dramatic renovation thanks to the creative minds at Wolf & Wing Interior Design and the generous folks at the New York Junior League who funded the project.
"This remodeling project was mostly cosmetic as we patched decades of cracked walls and ceilings, painted everything, and installed new porcelain pendants," says Amanda Moore, founder of Wolf & Wing. "We bought all new furniture, created fun new bookshelves, refinished the floors, and installed a brand new kitchen."
The team chose brighter, happier versions of the colors already used in the space and durable, kid-friendly furniture and materials that echoed the color palettes.
The existing lights were fluorescent boxes that created a harsh, shadowy light throughout the rooms. Amanda wanted to update the spaces with a more cohesive "classic schoolhouse look" connecting them with the age of the buildings themselves. She chose 17″ Porcelain White Bomber Shades to bring this classic look right up to the ceiling.
"We chose these porcelain pendants in white for the highest possible reflectivity and maximized the bulb wattage with LED's in each fixture for energy-efficiency and overall clarity and brightness," Amanda explains. Barn Light Electric donated the fixtures to the project from our Porcelain Factory Seconds Collection which features fully functional, but deeply discounted porcelain enamel lights.
These hand-spun ceiling pendants were customized with a flush mounting and wire cages to add to the nostalgic look.
"The wire cages also have that classic schoolhouse vibe and added additional charm, but of course, they're practical too," Amanda notes. "You never know what can happen in such a highly used community center!" Although the project took months to complete and countless hours of work, Amanda is pleased with the results and how the new lighting caps off each room.
"The lights truly transformed the spaces!" she says. "They are clean, bright and fun but do the job!"
Photos courtesy of Wolf & Wing Interior Design