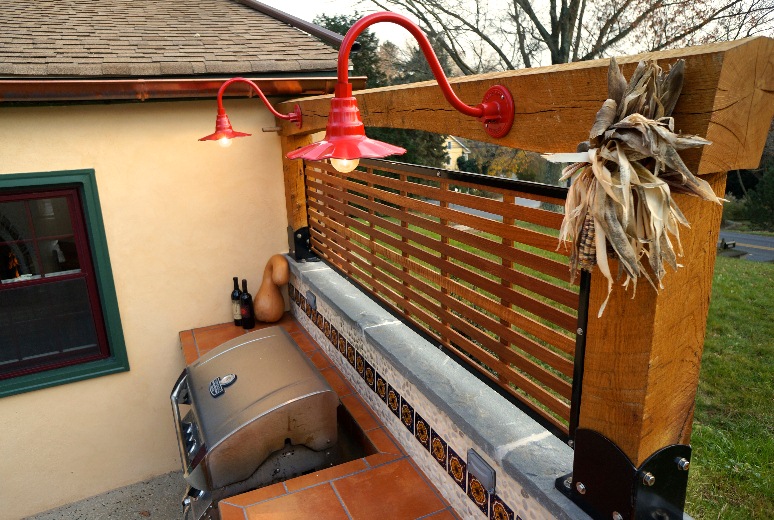 Sassy Gooseneck Lights Dress Up Outdoor Kitchen and Patio
When these southeastern Pennsylvania homeowners decided to replace their dilapidated deck, they turned to the Sonoma County wine country for inspiration. They enjoy their trips to California and wanted a mission-style design for their new outdoor kitchen and patio. Pete Cooper of Spring Creek Design took the reins of the project which included some fun gooseneck barn lighting to help create a cafè-type atmosphere.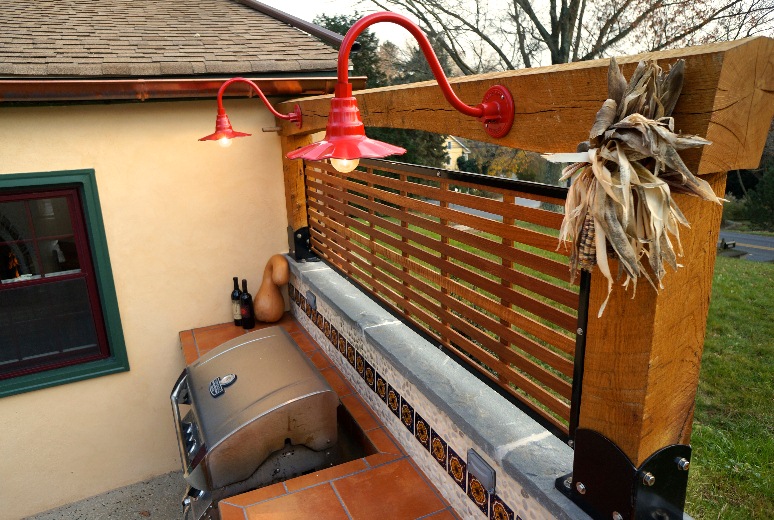 "The owners love to travel to Sonoma County, and we wanted to evoke the feeling and style we saw in their vacation pictures," Pete explains. "A wood-burning fireplace and outdoor cooking area were requirements as was dining and seating space for entertaining on a regular basis." Pete helped the homeowners select the Starfire Radial Wave Reflector Gooseneck Light in Barn Red to highlight the grill area.
"We wanted to complement the clients' laid-back, informal personal style," Pete says, adding that while low-key personalities often play it safe when it comes to design, the radial wave shape and bright color allowed them to push the client a little outside their comfort zone — with great results that everyone loves! The American-made Starfire Gooseneck Light comes in four mid-size shades and a dozen beautiful and durable powdercoat finish colors. More than 20 gooseneck arms can take this light up and away from the mounting surface with a variety of shapes and styles.
"The flirty radial wave design is an unexpectred delight, and the bright red color provides a festive pop to this party space," Pete says. When the dust settled and party plans were underway, Pete acknowledges that the lights fit the project perfectly.
"Frankly, it's hard to imagine what we would have used as alternatives," he says. "And of course the quality and heft of the product is very reassuring. Bottom line? The client is thrilled and that is what fuels our design/build business."
Photo courtesy of Spring Creek Design