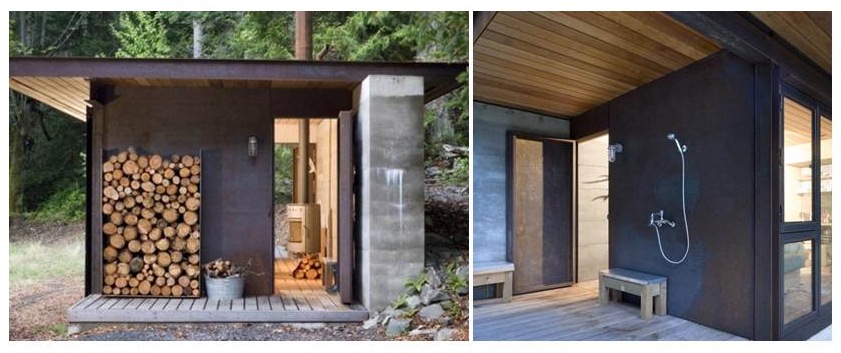 Rustic Sconces Enhance Sleek, Simple Cabin in Pacific Northwest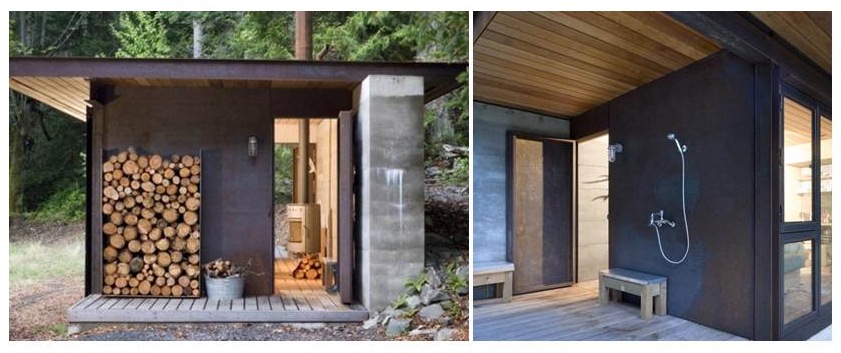 While many of us dream of an island getaway place that features palm trees and sugar white sands, there are other islands on this planet that offer the seclusion, serenity, and peacefulness we seek. On Salt Spring Island, which lies near the southernmost tip of British Columbia, Canada, a secluded, one-room cabin serves as a simple yet restful respite from the everyday world. Its sleek design melds perfectly into its rugged surroundings with cedar-lined ceilings and floors, a tiny kitchen, and outdoor shower. And though rustic, the outdoor shower features hot water thanks to a propane tank and a cozy woodstove offers plenty of heat just a few steps away.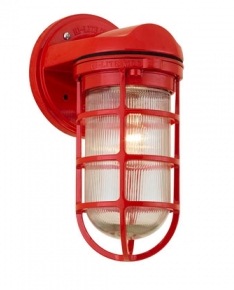 We love the choice of rustic wall sconces for the exterior lighting which fit perfectly with the verdant feel of this cabin. These sconces, found by a side door and by the outdoor shower, are very much like our Barn Light Industrial Static Topless Sconce. One of our most versatile sconces thanks to dozens of finishing options, this Industrial Static Sconce can take on a number of looks from mid-century to modern. Offered in two shade sizes, this sconce can be finished in one of more than 30 colors. Choose bold and vibrant Red, Yellow, or Polished Aluminum for a more modern look or stick with more traditional colors like Black, or Galvanized like these cabin sconces.
The glass that protects your bulb can also be customized with your choice of colored, frosted, or textured glass. Rated for wet locations, this wall-hugging sconce would make a great addition to your porch, garage wall, workshop space, or any tight space. And if you like this look, be sure to check out the complementary Barn Light Industrial Static Sconce which features a top over the cast guard. Just like the topless version, this American made light comes with dozens of finish options and is crafted to provide years of service!
Top photos by Tim Bies for Olson Kundig Architects and Remodelista