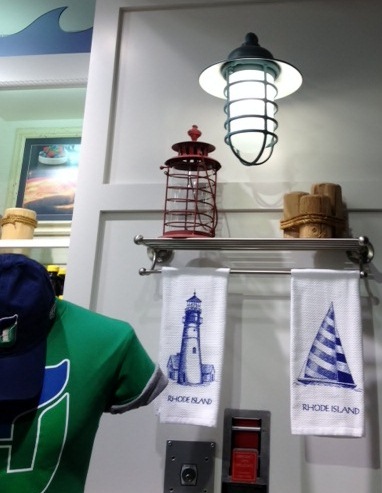 Rustic Sconce Highlights Gift Shop Goods with Nautical Style
Sometimes you see a light fixture in a certain space and you say to yourself, "What a perfect choice!" Well, around here, we do that alot. And when we stumbled upon this handsome rustic sconce recently in a Providence, Rhode Island airport gift shop, it just goes to show you how the right fixture can bring a display of commercial goods from boring to brilliant.

Providence, located at the head of Narragansett Bay, is steeped in nautical history, and this sweet little wall sconce shows off its own nautical roots. This light is very similar to our Barn Light Atomic Cast Guard CGU Sconce, a very popular selection in our collection of Rustic Wall Sconce lighting.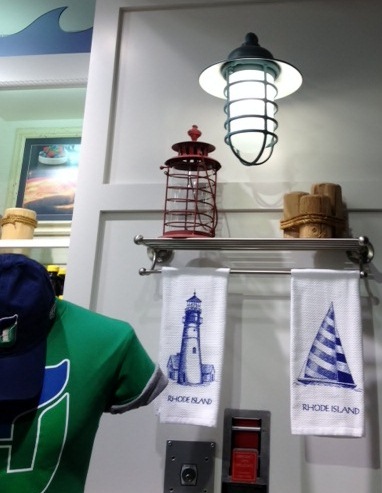 This versatile wall sconce comes in both a small, 10″ wide size or a larger, 13″ wide version. More than 40 finish colors are available for this fixture from a traditional galvanized, black, or white finish to trendier colors like bright red, yummy yellow, or cruiser green. Or go for a classic look with bronze, painted steel, or one of our many aluminum or brass finishes.
Your selection of glass will also affect the final look of your fixture. Frosted or ribbed glass will soften the brightness of the light while one of our four colored glasses will bring a unique glow to your space. Rated for exterior locations, this light will perform solidly for years in any outdoor spot but looks right at home in hallways, bathrooms, kitchens, mudrooms, or in the boat house.
For a slimmer profile, check out the Barn Light Atomic Topless Cast Guard CGU Sconce which comes in a small 4″ wide size or a slightly larger 5″ wide version. Both would tuck neatly into smaller spaces without sacrificing any of that nautical style. Be sure to browse our Photo Gallery which includes customer-submitted photos where you can find inspiration for your space!