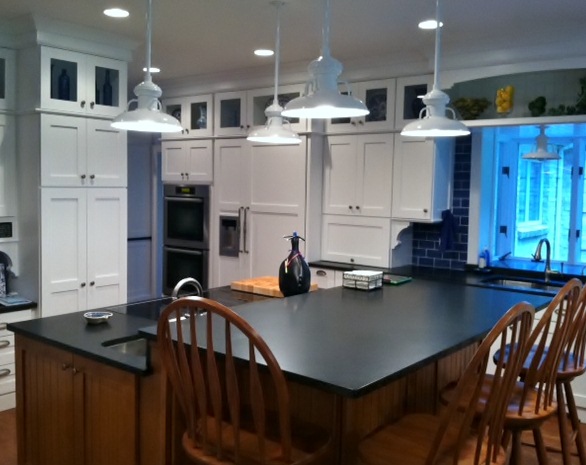 Featured Customer | Barn Pendants Complete Kitchen Makeover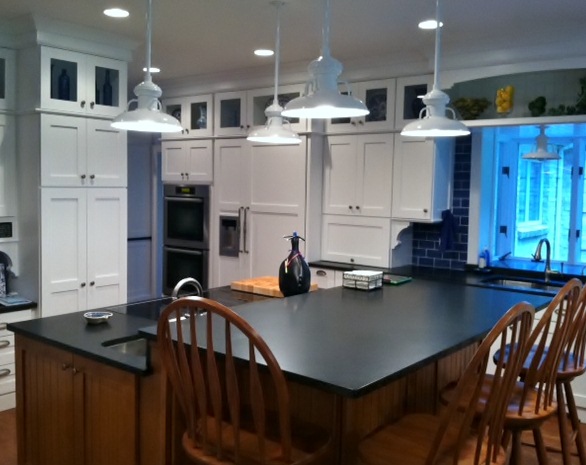 Just west of Boston in the town of Concord, a kitchen renovation was underway. Not a simple fresh paint and new hardware kind of renovation, but a down-to-the studs complete makeover! When homeowner Karen and her husband sat down to pick out new lighting for their space, a friend recommended Barn Light Electric. A quick internet search landed them on our website.

"We chose barn style lighting because we loved the look," Karen says. "We loved the option of color choices but, after toying with some blue samples, we ended up with white." The couple chose the very versatile Laramie Barn Pendants, a light that reflects true country flavor. With its ornate neck design and free flowing arms, the Laramie offers a shallow bowl with plenty of style.
"We love the warm, casual look. It fits us perfectly." Karen says. "We also liked the price point." Karen chose the 8″ shade in a white finish with a flush mount for over the sink. She then selected four of the 14″ shades in a stem mount for over the kitchen island. The final touch was a generous 24″ shade, also in a white stem mount, for over the kitchen table.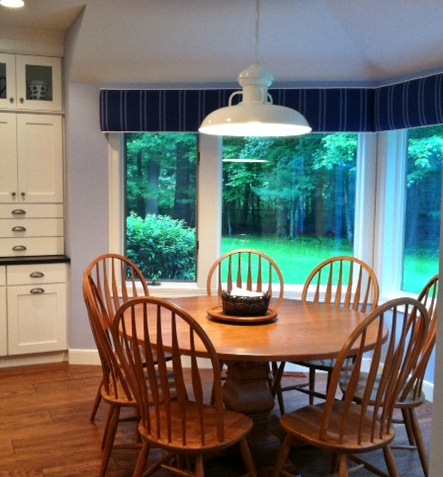 "We loved that we could get different sizes in the same light so everything ties together so nicely," Karen notes. The Laramie comes in eight different shade sizes from the small 8″ up to the 24″ that Karen installed here. There are almost 60 finish colors to choose from, and these barn pendants can be further customized with a cast guard and your choice of glass if you're striving for a more vintage feel.
Karen's project took four months from start to finish and now that the dust has settled and the glassware is safely tucked into the new cabinetry, Karen gives Barn Light Electric two thumbs up.
"You have great customer service!" she says. "We had some issues along the way, but you guys were great and we are very happy customers."
Photos courtesy of the homeowner