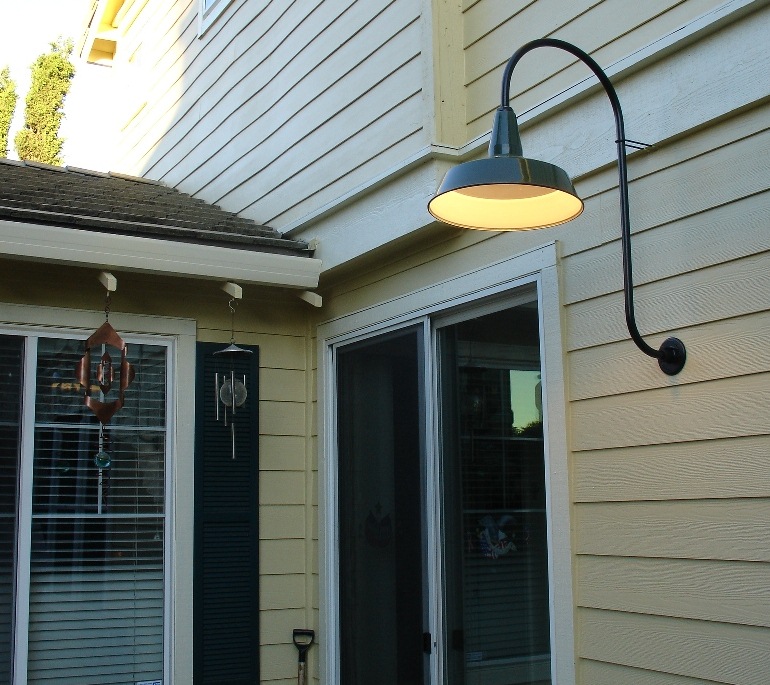 Featured Customer | Bob in California Shops Barn Hardware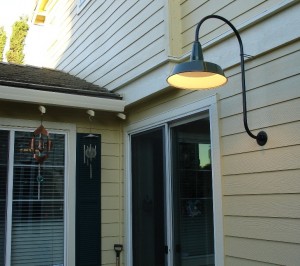 Just like us, there are people out there who love vintage lighting so much they go out searching for it. Our Featured Customer today is just such a man who describes himself as "a big collector and restorer." Bob, from California, loves taking old things and making them like new again so when he discovered a beautiful old porcelain warehouse shade at the Pleasanton, California Antique Fair a few months ago, he snapped it up for a cool $30.
"I only cleaned it up and touched up a couple of dings in the porcelain," Bob explains, "then I gave it a good coat of car wax." Now with the shade back to its original shiny self, Bob wanted to install it on his back patio. But therein he discovered a problem.
"The original junction box was mounted fairly low on the outside wall," he says. "This resulted in my need to find a suitable gooseneck pipe to raise it up high enough and mount it away from the wall." Bob turned to the internet in his search for an appropriate gooseneck arm and soon found our Barn Hardware collection which features dozens of gooseneck arms and mini gooseneck arms to fit almost any space. In addition to the gooseneck arm, Bob also needed a socket kit which he found in our Lighting Hardware section.
"I had nothing else to hang the shade with so I ordered both the gooseneck pipe and the socket kit," Bob says. Once he received the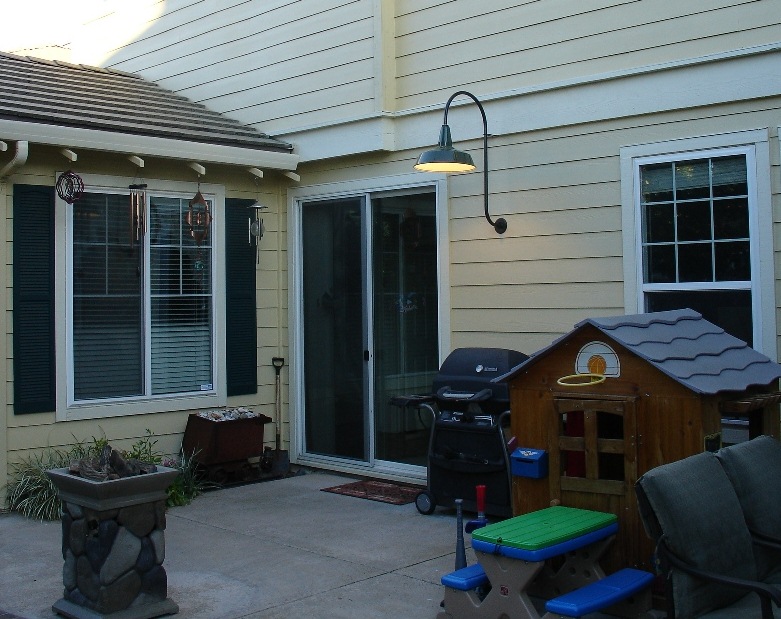 pieces and assembled them with the shade, Bob discovered that the fixture was very high and also very heavy. He was concerned that the typically windy conditions in his area would cause his vintage light to sway.
"I found that I needed to fashion an auxillary bracket from an aluminum rod to give it additional side-sway support." Bob is now at the top of our favorite DIYer list because the results are outstanding! And he'll always have a clear view of what's cooking on that grill!
"I love the light and so does everybody that's seen it," Bob says.
Photos courtesy of Bob from California