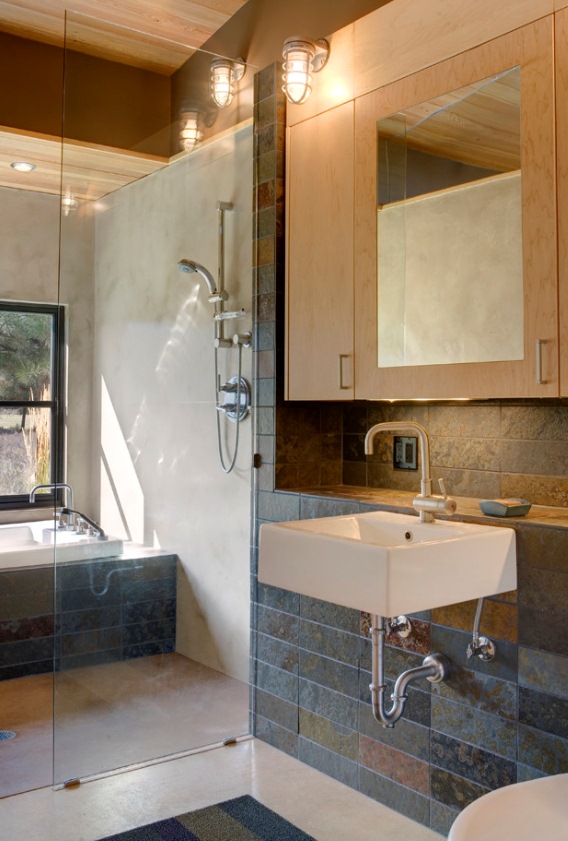 Rustic Sconce Adds Nautical Touch to Bathroom Spaces
In last Thursday's blog, we visited a cabin settled into a peaceful valley in eastern Washington. Located in a beautiful meadow surrounded by mountains, the thoughtful layout of this home takes advantage of sweeping views up and down the valley. In the previous blog, we admired the post-mounted rustic sconces placed throughout a large courtyard that connects the two structures forming the L-shaped home.

Today, we find the rustic sconces have found a place inside the home as well — in the bathroom. These fixtures, one over the vanity and a matching fixture inside the shower, are much like our Barn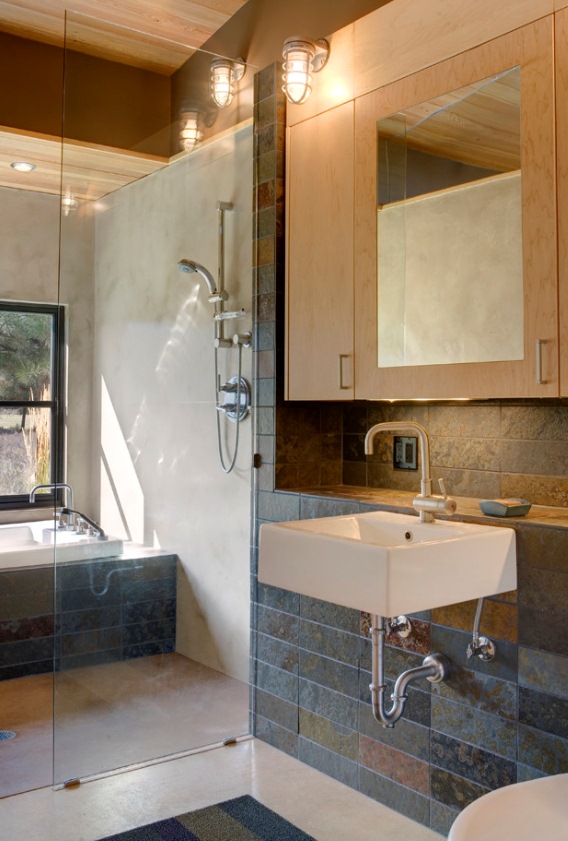 Light Industrial Static Topless Sconce. Rated for wet locations, this sconce is often used outdoors and, in particular, on docks and boathouses thanks to its nautical design. The bathroom is a perfect spot for these rugged fixtures where they cast a generous amount of light with plenty of style thrown in.
The Topless Sconce comes in both small and large sizes and both project less than six inches from the surface so it's a great wall-hugging fixture for tight places. Depending on how you choose to finish this American made light, it can take on a Mid Century or modern appearance. Choose bold, vibrant colors like Red, Yellow, or Blue or stick with more traditional finishes like Black or Galvanized. Seven different glass options are also on the menu, any of which can give your light a whole new look. In addition to this bathroom setting, this rustic sconce would work well in garages and hallways and would be a terrific choice for commercial lighting needs both inside and out.
For the topless look in a pendant, don't miss the Atomic Topless CGU Pendant which can be cord or stem mounted and finished in the same colors and glass choices as the sconce.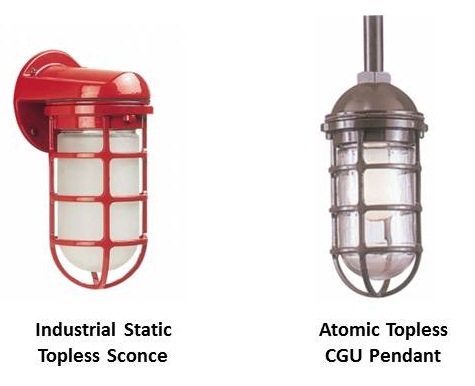 Top photo courtesy of Balance Associates Architects and Photographer Steve Keating