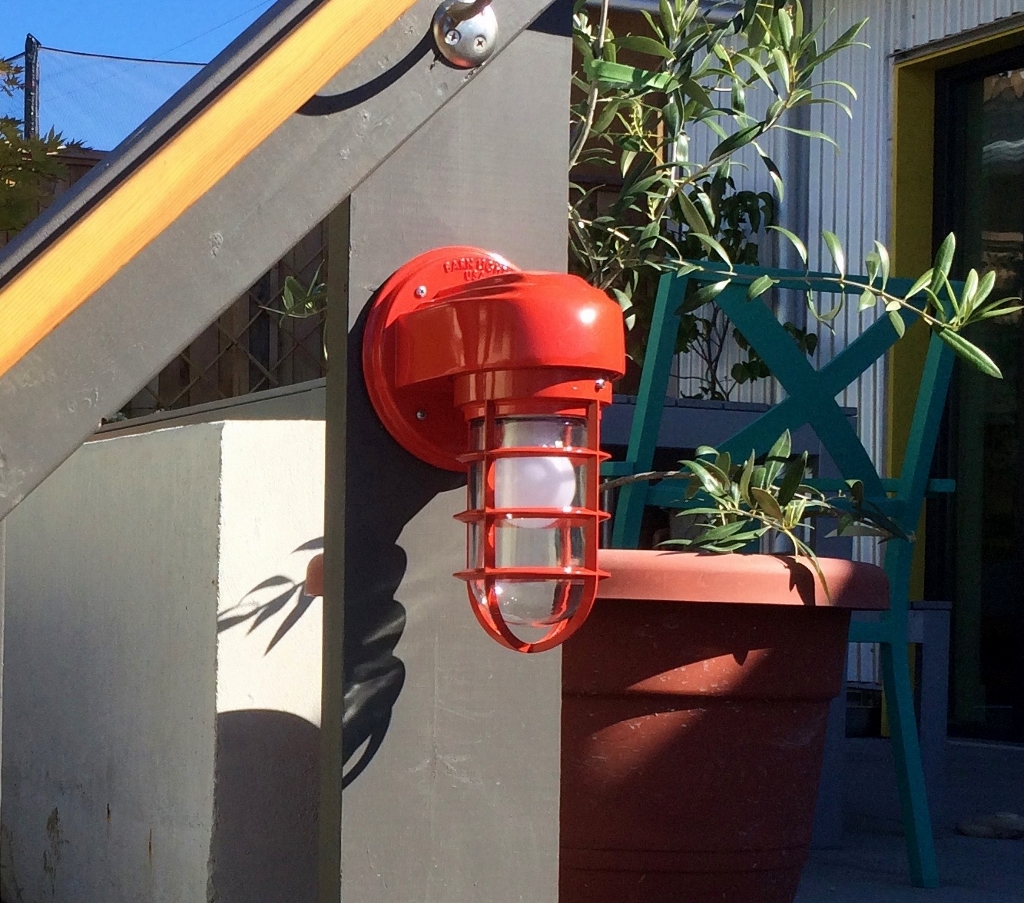 Rugged Exterior Lighting Handles Canadian Climate with Style
When the city of Vancouver recently relaxed its zoning laws to allow infill housing, Bambi jumped at the chance to escape the confines of apartment living. For the price of a small studio, Bambi built a brand new "laneway" house in the back yard of her mother's 70-year-old home.
"Laneway houses are very popular and have been popping up all over the place," Bambi says. "The back yard was largely unused before and, oddly enough, it feels like we have more yard now because the outdoor space is used much more efficiently."
Bambi worked with the team from LaneFab Design/Build on her new custom home which was created with Bambi's needs as a freelance graphic designer and illustrator in mind.
"I work from home so the house was designed around my large loft workspace," she explains. "I like a simple, modern aesthetic but I also love old industrial buildings." Bambi uses a vintage drafting table but wanted the space to work with both modern and vintage furnishings. An interior barn board wall adds a rustic touch while the corrugated steel siding lends an industrial feel.
When it came to exterior lighting, Bambi fell in love with Barn Light Electric's collection of Wall Sconces.
"I have always loved the feel of old industrial-style lights, and it felt like the right fit between my new, modern little house and the existing 1940s house already on the lot," she says. Bambi chose the Streamline Industrial Guard Sconce for exterior lighting. She customized these rugged American-made wall sconces with an Orange finish color, standard cast guard, and clear glass.
"I really love the shape of the Streamline Sconce," Bambi explains. "I wanted something fairly low to light the pathways and stairs after dark, but not bathe the space in light. The sconces are large and hardy-looking, yet they have lovely curves. I get so many compliments on them!"
Bambi chose the festive Orange finish color for its bold warmth. The splash of color stands out against the concrete, stones, and greenery contrasting those grey, wet Vancouver days.
And with three large dogs between the two households, the lights withstand the smacking of large, powerful tails!
"I love that the lights look vibrant even when they're off during the day," Bambi says. "They provide a great pop of color in the yard and give off a lovely glow at night. They're both beautiful and functional."
For more pics of both the interior and exterior of this beautiful home, check out this link!
Photos courtesy of the homeowner