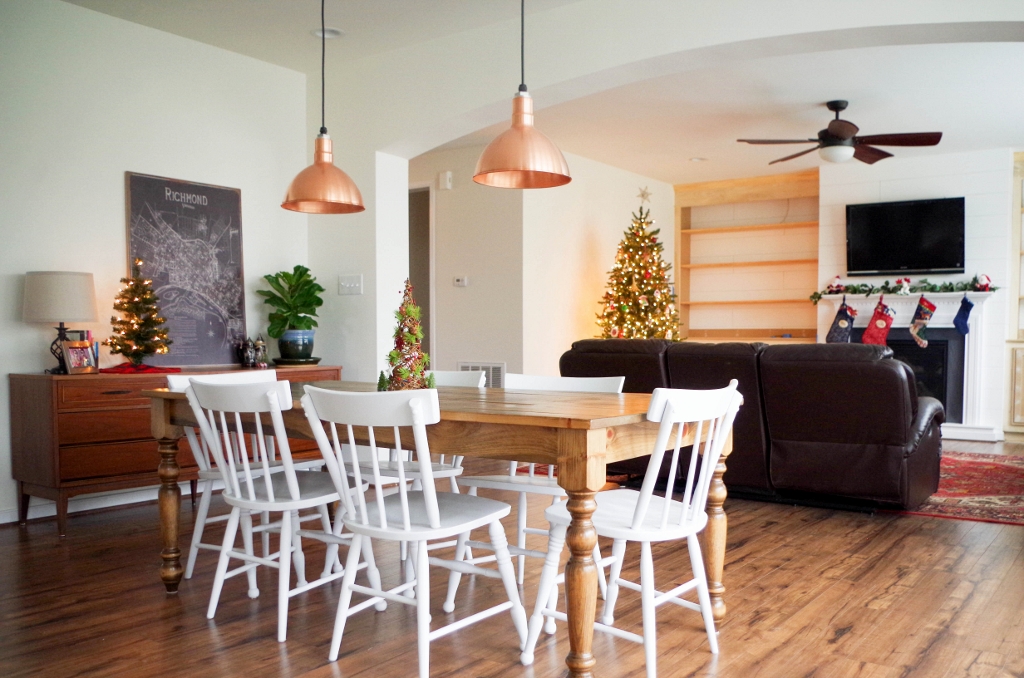 Warm, Copper Pendant Lights Visually Anchor Open Floor Plan
The open floor plan is both a blessing and a curse. People love the free-flowing style of this plan so they can move from one space to another with ease. Large gatherings work well with an open floor plan and furniture moves easily to accommodate the whims of the homeowner.
Yet the open plan can also present design challenges as Nicole found out recently when she put finishing touches on her new Richmond, Virginia, home.
"Our downstairs is open which I absolutely love, but it's been challenging from a design perspective because every decision has to jive with all three spaces — the kitchen, dining area, and the great room," she says. While the builder's plans called for a small chandelier over the dining room table, Nicole didn't want the fixture to block the view between the kitchen and living space. She opted instead for two Wilcox Deep Bowl Pendant Lights instead.
"We wanted lights over the table to produce down light only," Nicole explains. "So when you're looking across the room, you're not blinded with the brightness from a glass shade." Nicole customized her new lighting with 12″ shades and a Raw Copper finish.
"I love the shape of the deep bowl and the way the bulb is so concealed," she notes. "I didn't want anything that would look too farmhouse. For me, the deep bowl is the most modern of the copper shades."
The modern shape of the Wesco paired with the timeless look of copper brings a splash of warmth and sophistication to Nicole's open floor plan. She loves how the copper pendants look different throughout the day.
"In the morning, they are a bright and refreshing addition to the space," she says. "At night, they become moody and intimate. The way the light reflects off the inside of the shade and glows is pretty magical."
Nicole searched for a classic, easy-to-customize barn light and knew that Barn Light Electric was an obvious choice.
"Watching the Barn Light Electric video sold me. It's so inspiring to see these shades handspun with pride by American men and women," she says. Follow Nicole's home-building journey on her blog, Basic Blue House, and see more great photos of her home on Instagram!
Photos courtesy of Basic Blue House