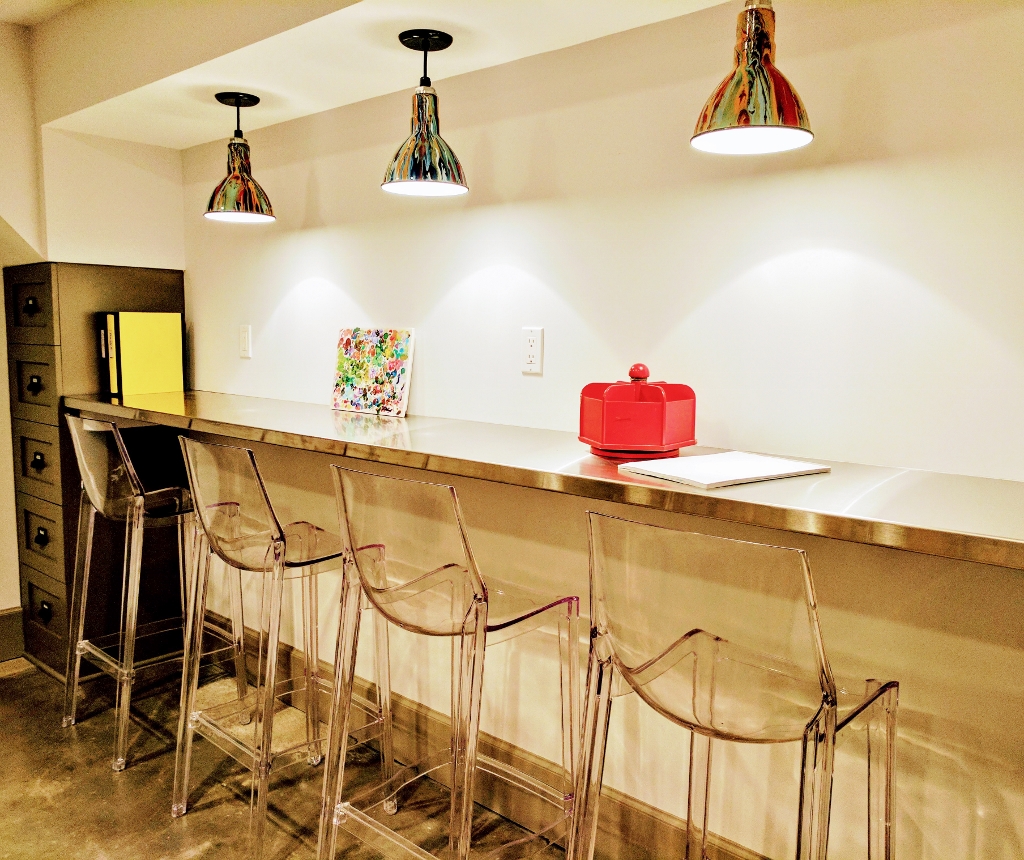 Pendant Lights Bring Playful Color to Kids's Art Space
Is there anything we love more than classic gooseneck barn lights? Why yes, indeed! We love our repeat customers! Many of the customers who come to us year after year are the interior designers, architects, and builders who help homeowners create their dream spaces.
Christopher Rosow, principal and owner of Three Beans Design/Build in Fairfield, Connecticut, has been sourcing our handcrafted products for a number of years now. While he typically searches the Barn Light Electric site for exterior lights, a recent project called for pendant lights for a children's art room.
"Our firm did an extensive remodel for a family that includes five children ranging in ages from two to 10," Christopher says. "The scope of the work included a kitchen, pantry, laundry, mud room, and bar on the main level and a media room, gym, and art room on the lower level." The art room was designed to be durable with an industrial vibe. The space features polished concrete floors, stainless steel work tops, dark gray cabinetry with black hardware, and acrylic seating.
As Christopher and the homeowner browsed the website for pendant lights, they fell immediately for the Pollock Pendant Collection. This unique collection of porcelain pendant lights takes design direction from Jackson Pollock's signature "drip paint" technique. Our craftsmen use porcelain enamel glass in varying hues to create colorful patterns that vary slightly thanks to the hand-applied technique.
Christopher selected three different pendant lights to install over the stainless art table top.
"Normally, you don't see three different pendants in a row. But in this room, they tell a story of color, of texture, of creativity," he explains. "The most difficult part was picking only three out of all the Pollock color options!"
The final choices include the Pollock No. 1  which features a pattern concocted of Red, Cobalt, Yellow, Jadite, Delphite, and White porcelain enamel finish colors. The Pollock No. 2 is created from shades of Red, Cobalt, Yellow, Jadite, and Delphite. The third pendant in the trio is the Pollock No. 4 which boasts the colors Red and Yellow in a drip pattern atop a background of Jadite and Delphite.
All three pendants were crafted from commercial grade steel into an 8″ shade and finished with a standard black cord.
"The bright pops of color and the artistic nature of the pendants work perfectly in the space," Christopher notes. His company utilizes in-house design and an in-house custom millwork and cabinetry shop. Three Beans Design/Build has specialized in bespoke and artistic residential renovations and additions since 2006.
Photos courtesy of Three Beans Design/Build