Reflector Shades from WW2 Military Lighting

Porcelain barn lights are rugged enough to withstand the test of time. The ultimate example of porcelain's durability are Mini Military Porcelain Reflector Shades. These style of lights were military issued during World War 2. These vintage shades measure 11 3/12″ high by 8″ wide, with a dark, olive drab green porcelain enamel finish and a white interior.
The Clip Socket Shade, pictured above, was manufactured by E-Z Electric in Beloit, Wisconsin. A round 1.5 inch socket clip holds the shade's socket in place. Each is currently selling online for $49.95.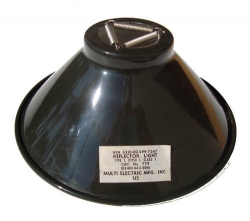 The other military issue Reflector Shades featured within Barn Light Electric's Vintage Barn Lights come with 3 springs that hold the socket in place. These also have an olive drab green finish with a white interior and sell for $49.95 each. These porcelain shades were made by Multi Electric Manufacturing, a company that started off as a small, family owned business that sold lighting equipment and accessories. After they produced reflector shades for the military during World War 2, the company expanded and started to produce airport lighting. Since that time, Multi Electric Manufacturing has created lights for the U.S. Air Force, the U.S. Navy, Chicago's O Hare Airport, Atlanta's Hartsfield International Airport and various federal agencies including the Federal Aviation Administration.
These authentic, American-made, vintage barn lights live up to the same strict standards as our new reproduction porcelain barn lights. However, if you're searching for the best collection of original vintage porcelain enamel shades, many of our Vintage Barn Lighting offered online has been cleaned, rewired and comes ready to be installed.
The porcelain enamel RLM shades featured today are in exceptional condition and, like our World War 2 fixtures, each shade has its own character! Their sturdy, porcelain enamel construction has allowed them to withstand years of use – even in the military! Most of these original barn lights were at one time used as vintage industrial lighting. Many industrial pendant fixtures were commonly found around early 19th century industrial factories and workshops. These vintage reflector lights can be brought into your industrial farmhouse or urban loft as a token of America's greatest generation.
*Vintage and Salvage items are considered closeouts and cannot be exchanged or returned.