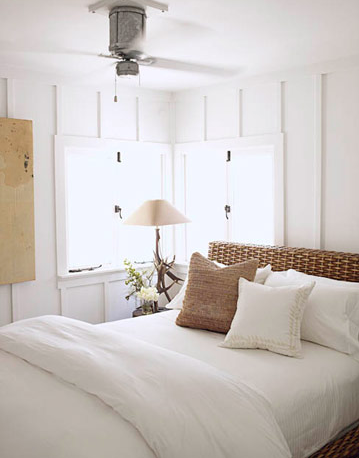 Recapturing The Charm Of The Industrial Era With A Galvanized Ceiling Fan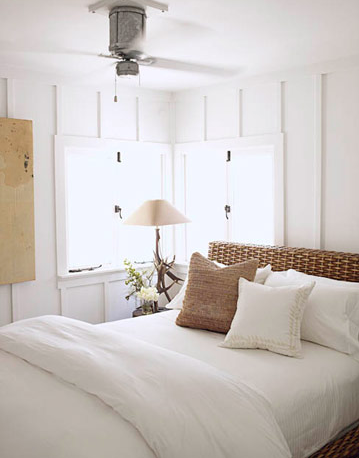 Photo Courtesy of House Beautiful Magazine
At Barn Light Electric, we offer several lines of high quality, American- made light fixtures; a few of these products are even exclusive to us – and only us! A few of these include: The Machine Age Table Lamp, Porcelain Enamel shades, our new Camouflage Camo 12″ Gooseneck Barn Light and our featured product of the day – the Machine Age Galvanized Ceiling Fan.
This one of a kind fan was spotted in a recent online album from House Beautiful Magazine. Its completely Galvanized motor housing and optional Galvanized blades cannot be purchased anywhere else, making it a rare and unique find for homeowners or designers. Our Machine Age Ceiling Fan has the ability to tie itself into multiple home's decor. This home in particular – a 1940 rancher's cottage was created using several reclaimed elements and vintage finds which in the end, ties in perfectly with the industrial era.
When paired with the white blade option, the motor housing takes on a softer, yet still modern feel. A wicker style headboard, fresh over stuffed linens, and crisp white walls also aid in keeping this space both clean, country, and modern. Since this fan is rated for damp locations, designers were allowed to also carry the same fan out onto the covered porch ultimately allowing for a relaxing spot over looking the Napa Valley vineyards.
The Machine Age Galvanized Ceiling Fan is available in multiple blade options and sizes. If a 100% Galvanized fan isn't for you, consider pairing it with the white blades (shown above) or one of many additional options – Black, Silver, Maple, or Mahogany in both a 42″ or 52″ span.
Note: For safety reasons, when ordering the Machine Age Galvanized Ceiling Fan with metal blades, the fan must be installed 10 feet from ground level.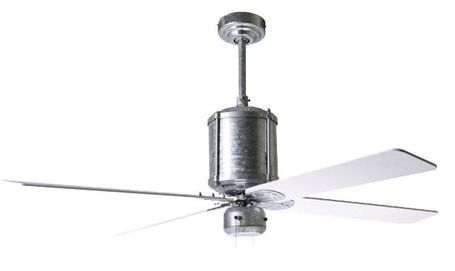 Shown Above: Barn Light Electric 42″ Machine Age Galvanized Ceiling Fan, White Blades. Prices start at $349.00 each.