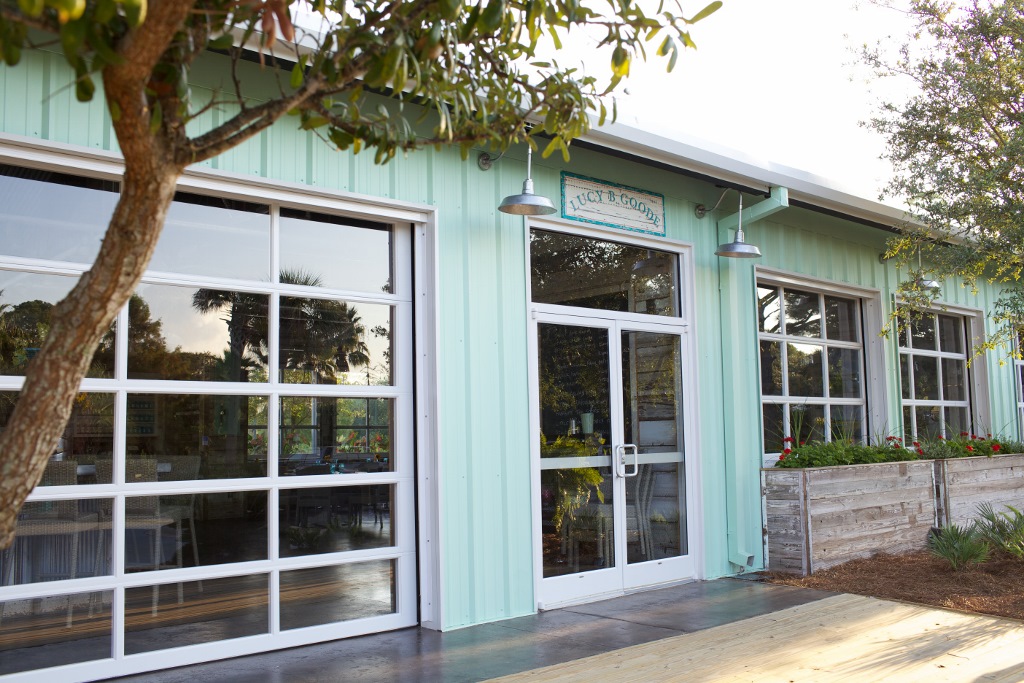 Galvanized Ceiling Fans Stir Up Bama Breezes on the Gulf Coast
As the owner of the wildly successful LuLu's Sunset Grill, Lucy Buffett — an exceptional cook, thoughtful philanthropist, savvy business woman, and Crazy Sista to Jimmy — turned her sights on creating a new establishment that offers a twist on typical Gulf Coast cuisine. The rustic yet refined Lucy B Goode Coastal Café, which overlooks Homeport Marina in Gulf Shores, Alabama, opened last August to rave reviews.
"I wanted the restaurant to resemble the old fish camp cafes along the Mississippi Gulf Coast where my Daddy would take my Mama for cold beer and crabs after a sunset sail when he was courting her back in the '40s," Lucy says. Following the design aesthetic of an old fish camp, Lucy chose galvanized fixtures from Barn Light Electric to highlight the new space.
Spinning above the salvaged wood siding and stained concrete floors, eight Machine Age Galvanized Ceiling Fans stir those 'Bama breezes to keep patrons comfortable while they nibble on Lucy B Goode Crab Cakes and sip JB's Mo Perfect Margaritas. These ceiling fans feature a 52″ blade span with Galvanized blades.
"We chose these fans because the mix of modern and industrial was a nice change from traditional fans," says Gabrielle Barnett, Lucy's executive assistant.
Outside, classic warehouse-style lighting graces the façade with a dozen Original™ Warehouse Gooseneck Lights providing plenty of light on the walkways leading to the entrance. These 16″ classic warehouse shades also sport a Galvanized finish and a modified G11 gooseneck arm. And to complete the rustic look, Lucy chose rugged sign lights to bring attention to her new signage atop the building.
"We chose these particular lights because of their uniqueness, design, and quality," Gabrielle says. "The finish helped us stay in touch with the design theme and look of old, sturdy, and reliable design. We love the look and feel they provide to the space!"
Photos courtesy of Lucy B Goode Coastal Café