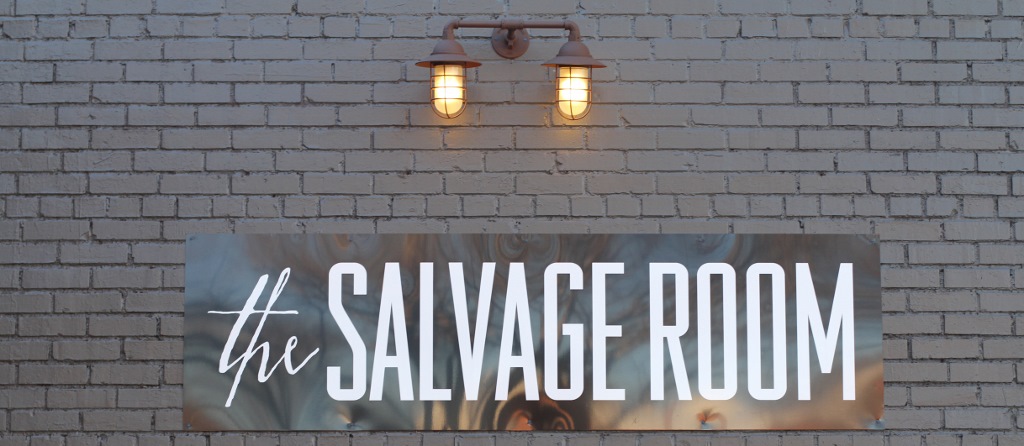 Rustic Wall Sconce Perfect Accent for Vintage Décor Shop
When Aimee Daniels, owner of the Salvage Room in Oklahoma City, turned her creative eye to the entryway of her retail space, she had two goals — to illuminate the façade and to find a unique light that would beckon customers inside to explore her eclectic collection of hand-picked vintage items, handcrafted pieces, plus new and vintage apparel, dècor, and accessories.
"We were remodeling and had the front of the store painted from a brick red to a dark grey," Aimee says. "We wanted a light fixture that was both industrial and unique, and could give off a considerable amount of light."
Aimee chose the Double Market Industrial Guard Sconce, part of our collection of rustic wall sconces. The twin cast guard and glass fixtures with mini flared shades are affixed to a rugged arm and backing plate making this American-made wall sconce extremely durable for outdoor locations. Aimee customized her new commercial lighting fixture with a Rust finish and frosted glass.
"We chose the Double Market Industrial Guard Sconce in Rust because it matched our aesthetic and looked salvaged," Aimee says. "We absolutely love everything about our light!"
Choosing commercial lighting can be difficult as many business owners want to satisfy both a need for safety and functionality without sacrificing style. Barn Light's wall sconce collection includes a variety of double sconces including this Double Market Industrial Guard Sconce that features a larger shade and is available in a wide range of brilliant powder coat finish colors.
Or for a sleeker look, consider choosing the "topless" option that eliminates the warehouse shade. You can also choose between wire guard, standard cast guard, and heavy duty cast guard to suit your taste.
The Salvage Room is preparing to celebrate its one-year anniversary in the Plaza District and Aimee is happy with the store's new look.
 "The light gives a finished look to the facade and adds more light to our storefront," she says. "We are very pleased with its aesthetic and function."
Photos courtesy The Salvage Room