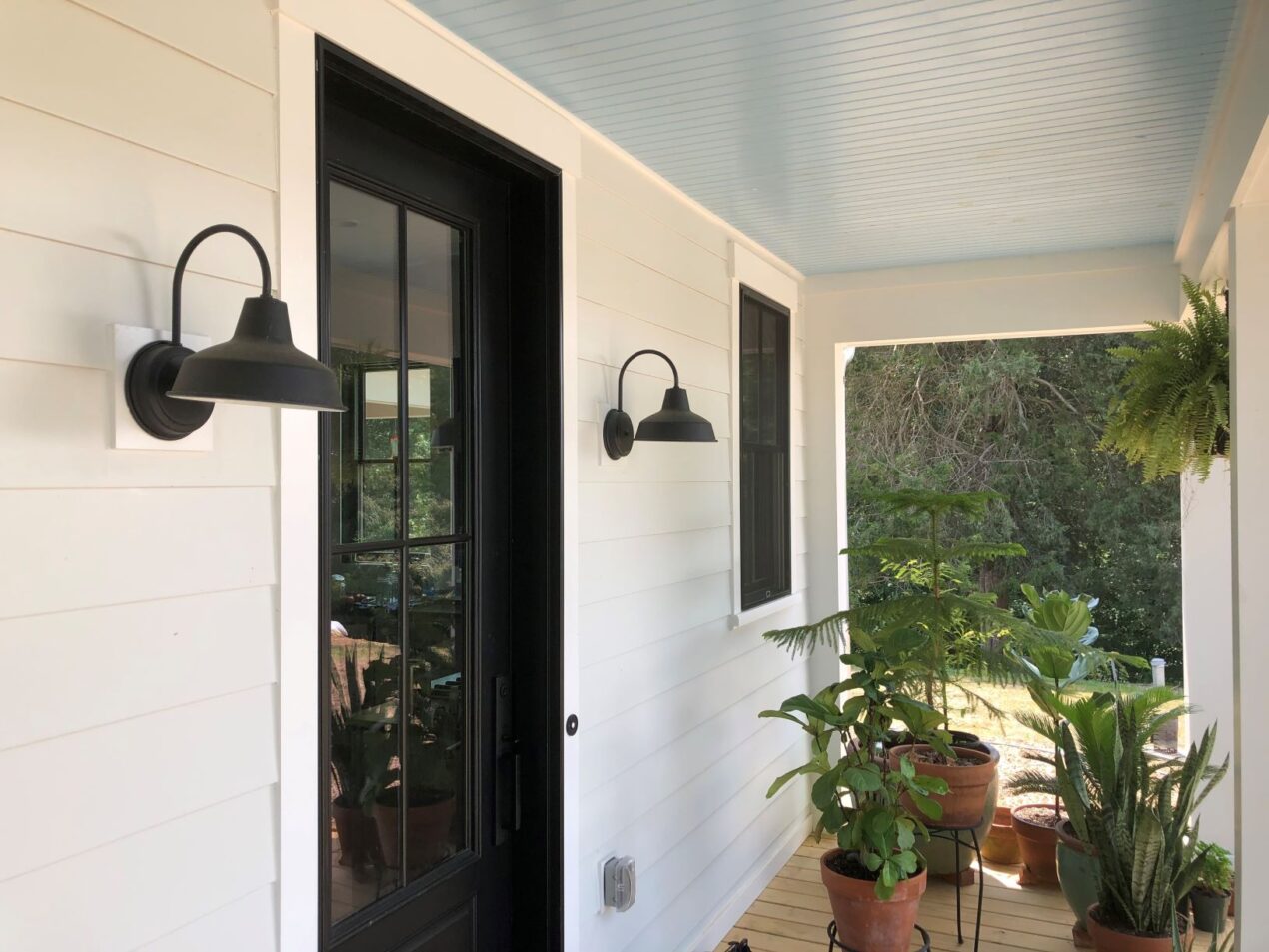 Quintessential Barn Lighting Completes New Farmhouse Build
Marriage is all about compromise. For one couple in Fredericksburg, Virginia, their conundrum was the age-old debate over whether to build a new home or renovate an old one.
While Jason wanted to build, Stephanie's dream was to find an old farmhouse like the one she grew up in to restore and make their own. When their search for an existing home came up empty, the couple purchased 10 acres to make both their dreams come true.
"I knew that I could incorporate all of the elements I love about old homes into a new one," Stephanie says. "We purchased the land and jumped immediately into the design."
The couple wanted a smaller home of 2,000 square feet plus an unfinished basement. High ceilings, clean lines, and lots of windows were all high on the priority list. They also chose a monochromatic color scheme to allow their furnishings, belongings, and personalities to shine.
"Lighting was a really overwhelming decision for me because of the endless options and knowing the impact lighting has on a space — no pressure!" Stephanie notes. "American-made options are always our first priority and lighting is no exception. Barn Light Electric makes things so easy — made in the U.S., almost endless customizing options, and a super quality product."
To achieve the farmhouse look of Stephanie's dreams, the couple chose classic barn lights for the exterior of their new home. And nothing is more classic than The Original™ Warehouse Gooseneck Light. Stephanie customized these handspun barn lights with 18″ shades, a Textured Black finish, and G15 gooseneck arms.
"We played around with different sizes for both the shade and the gooseneck arm," she explains. "We wanted something that stands up to the size of the garage doors, makes functional sense as far as the amount of light it provides, and breaks up the vertical and very linear garage front elevation. We think this combo of the 18″ shade and the G15 arm nails it."
They liked the look of this gooseneck light so much they also placed one over the basement walkout French doors. This fixture features a slightly smaller 16″ shade to better suit this space, but the same Textured Black finish and G15 arm as the garage lights.
To highlight the rest of the exterior doors on the home, Stephanie chose the Austin Wall Sconce. She customized these handcrafted wall sconces with 10″ shades and the Textured Black finish.
"We have eight-foot doors and, to me, these lights are the perfect companion to these strikingly tall doors," she notes. "The lights are functional and charming, and I love that the arched arm mimics the arch in our goosenecks helping to provide a cohesive feel for all our exterior lighting."
With so many classic details on the exterior of their new farmhouse, both Stephanie and Jason are in love with the results. And Dale Dog, their Fox Red Labrador, obviously agrees!
"I didn't want anything too contemporary for the outside lighting. I wanted it to feeling inviting and welcoming," Stephanie says. "Barn-style lighting screams classic. Add in a gooseneck and you've instantly got quintessential AND timeless. It's the perfect understated statement."
Be sure to check back on March 22nd when we take a peek at the interior of Stephanie and Jason's new home, and don't miss their Instagram feed where the couple chronicled their farmhouse build!
Photos courtesy of @springofmint