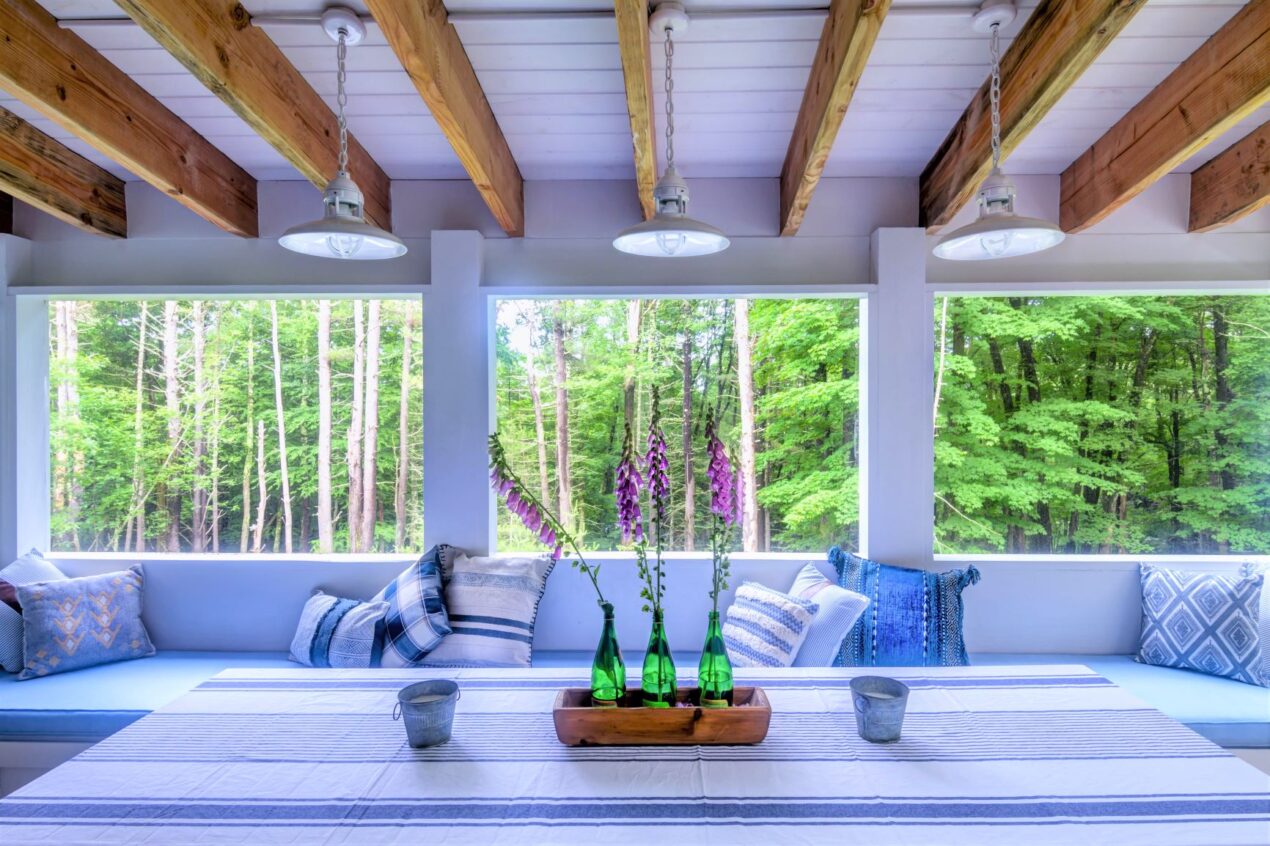 Quality, Farmhouse Lighting Accents New Screened Porch
A screened porch represents the perfect uniting of indoors and out. It provides a multi-functional space to eat, relax, and entertain while enjoying cool breezes, scents from the garden, and no bugs!
And there's no better place to have a screened porch than on a home surrounded by the beauty of the Catskill Mountains. New York designer Pedro Porro recently tackled the addition of a 300-square-foot porch on an 11-year-old home in Sullivan County, New York.
"The porch was built with exposed rustic Douglas fir beams and a white shiplap ceiling for a very authentic Catskills feeling," Pedro says. "The cedar siding on the house is light gray/blue with white trim, so we limited the colors of the porch to shades of blue and white for a cohesive look." The before-and-after photo above shows the dramatic difference.
During the original construction of the home, the local contractor suggested Barn Light Electric for lighting. Pedro returned to the American manufacturer to select ceiling pendants for over the dining table on the new screened porch.
"The first priority for the design of this porch was to maximize the views of eight acres of virgin forest," he explains. "We did not want to obstruct this view with the pendant lights." Pedro chose the Brisbane Chain Hung Pendant Light in a White finish to provide the necessary illumination without being obtrusive. He customized these American-made pendants with 14″ shades, White cords, and clear glass.
"Choosing the white finish, the white cord, and clear glass was ideal for making a statement that would complement rather than obstruct the view," Pedro notes. "We love the industrial farmhouse feel of these fixtures which give the interiors a little more edge and keep them from looking contrived."
The Brisbane Chain Hung Pendant features a handspun, shallow shade over a rugged cast guard. Each element of this fixture can be customized from the shade size and color to multiple chain, cord, guard, and glass options.
"The best part about these pendants is that they cast light down onto the dining table but also cast light out into the room above the shade," Pedro adds. "No one else offers anything comparable." A full-time interior designer since 2008, Pedro works on residential projects in New York City and upstate New York and has also created interiors for several commercial projects.
"Cheap imitations of these fixtures can be found at big box stores, but there is no comparison to the heft and quality of the Barn Light fixtures," Pedro says. "We never considered anything else for the pendants on the porch."
Photos courtesy of Pedro Porro Design