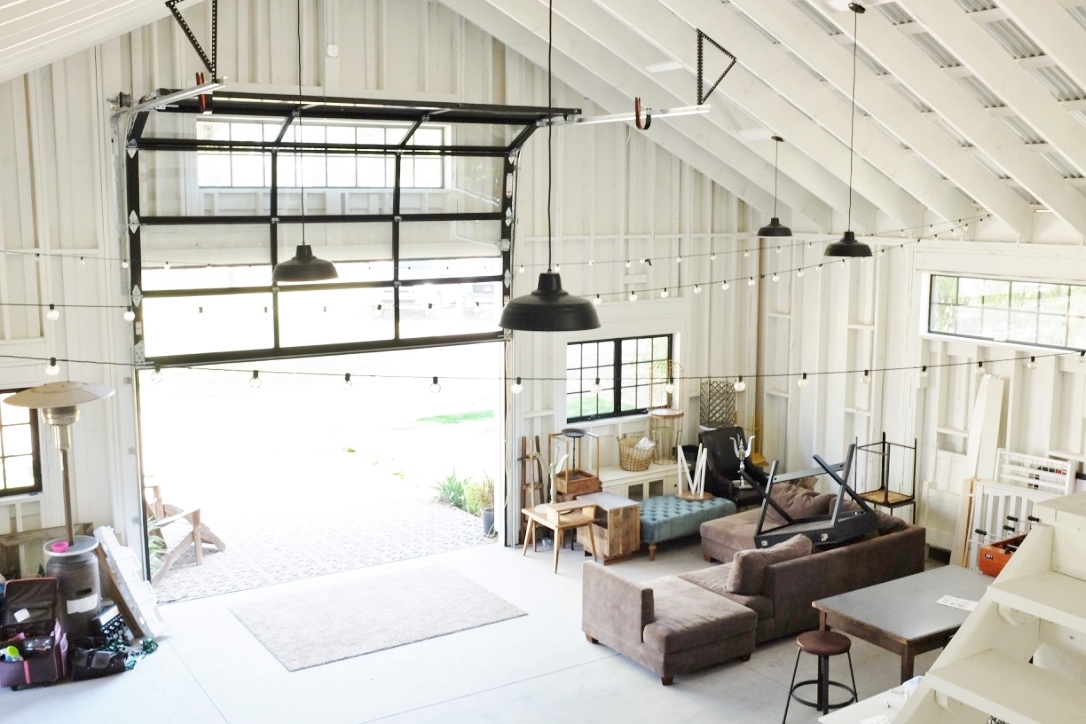 Discount Barn Lights Add Clean, Modern Style Without Breaking the Bank
What do you do when your business is growing and you need more space? If you're Alexis Lundberg of Lexi Grace Design in Arizona, you raise a barn!
"We are a residential and commercial design studio as well as a home staging company," Lexi says. "I designed the new barn and worked with an awesome contractor to oversee the build process from the ground up." The result is a studio and warehouse that also serves as an event space.
Lexi designed the barn with classic barn elements including a galvanized roof, rough sawn beams, and white paint. She threw in a few modern twists with black steel grid windows, a roll-up barn door and plenty of black-and-white contrasts.
"I wanted the space to be white, bright, and airy," she notes. "It needed to function for storage but also be a space that inspires creativity." As Lexi considered lighting the space, barn lights were the obvious choice.
"Barn Light Electric lighting was perfect for this space because it feels like a classic barn style but is also clean and modern," she explains. "I wanted clean pendant lighting not only for the light but for the aesthetic appeal."
Lexi chose Farm & Barn Cord Hung Pendants which are part of our Discount Barn Lighting collection. These handcrafted shades offer all of the quality of our standard American-made lights and are easy to customize with four shade sizes and five finish colors.
Lexi chose 13″ shades for her new pendants with a Black finish to contrast against the white beams and metal roof.
"I love how simple the pendants are," she says. "They are simple, but they definitely complete the space. They look like they just belong there." On the exterior, Lexi chose the complementary All Weather Gooseneck Warehouse Shade. This discounted gooseneck light is also manufactured at our Florida facility and can be customized with one of three shade sizes and five finish colors.
"The goosenecks have great lines that contrast against the white barn," Lexi says. "The exterior of the barn looks a bit more rustic, but I think the clean lines of the gooseneck bring the right modern feel to the exterior."
Lexi has been designing both residential and commercial spaces for more than five years now from her Gilbert, Arizona home. The barn ensures her space to grow and create for years to come!
Photos courtesy of Lexi Grace Design