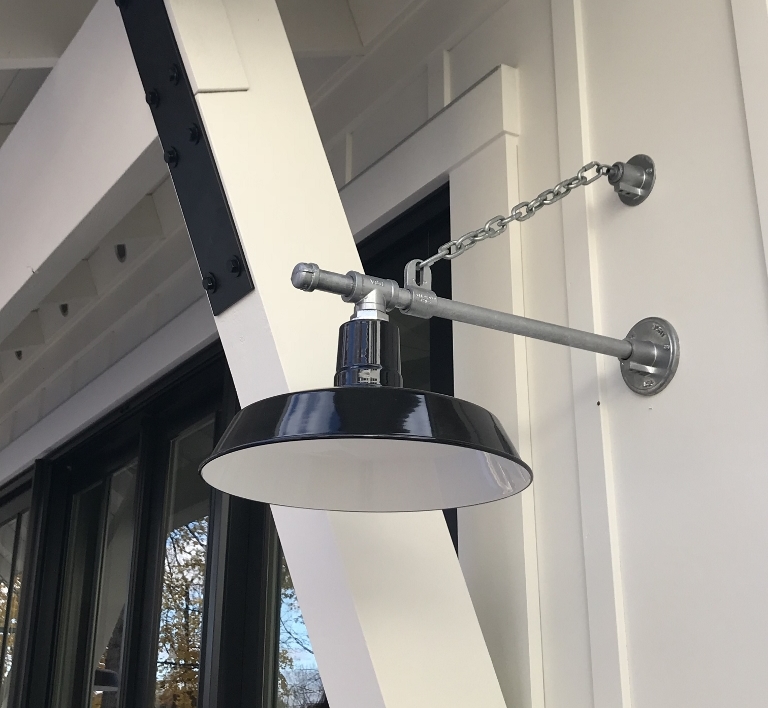 Designer Chooses Quality of Barn Light Electric
For more than 20 years, designer Pamela Konen, of Konen Homes in Minnesota, has researched and specified lighting for her clients. When she discovered Barn Light Electric, the American manufacturer of vintage-inspired lighting quickly became her go-to source for quality fixtures built to last.
"Barn Light Electric is one of my favorite places to shop as I'm drawn to the quality of the industrial lighting they offer," Pam says. "Many other manufacturers offer industrial lighting given it's a popular style, but I have yet to find one that competes with the quality of the Barn Light product." 
For one of Pam's recent projects, a new modern farmhouse located in Deephaven, Minnesota, she and her client envisioned clean lines and crisp colors for the home's exterior.
"To me, lighting is the jewelry of the exterior and the light fixtures are statement pieces," she explains. Pam chose three different fixtures for the home and garage but with similar shade designs to create a familial feel.
The Original™ Warehouse Gooseneck Light oozes with industrial style thanks to its rugged chain-supported gooseneck arm. Pam customized these porcelain enamel gooseneck lights with 16″ shades and a Black finish. The G64 18″ adjustable gooseneck arm features a Galvanized finish that complements the home's metal roofing and gutters.
"I fell in love with this light and have since used a version of it on the exteriors of two different homes. It's definitely a statement piece." Pam notes. " I like the mixed colors with the Galvanized for the industrial look and the Black for a more decorative shade."
Pam also chose the Original™ Warehouse Gooseneck Light for other doorways on the home. These slightly smaller fixtures feature 14″ Black shades and G17 straight arms.
"These were a nice complement to the other fixtures," Pam says. "I was able to match the shades between the two fixtures so it looks like a family of lighting. The smaller shade makes the fixture a bit more charming."
On the porch, Original™ Warehouse Flush Mount Pendants feature the same warehouse-style shade but with a compact flush mounting. These 16″ shades are also finished in Black to round out the overall look.
"I have five pendants on the porch so it allows for a lot of light without an overdone ceiling of lights," Pam explains. "Again, this was to tie in all three styles as a family of lighting. It's a smooth transition from one style to the other." Pam has been shopping with Barn Light Electric since 2008 when the company first opened its doors and has been a loyal customer ever since.
"There are so many options when customizing the light fixture with material and color that I always get what I'm looking for," she says. "Barn Light Electric is definitely worth it when it comes to the quality of the fixture design and materials."
Photos courtesy of Konen Homes